Sylvan Esso – the duo of Nick Sanborn and Amelia Meath – have announced their next album: No Rules Sandy arrives August 12 via Loma Vista. Accompanying the announcement is the new single 'Didn't Care', which you can check out below.
Sylvan Esso recently performed the entirety of No Rules Sandy at the Newport Folk Festival. In a statement, Meath said the new album "feels like who we actually are. It just feels like us. We're not trying to fit into the mold, just happily being our freak selves."
"Our whole career up until now, I feel like everything's been really considered, and we've maybe overthought a lot of the music," Sanborn added. "I think that might be the ultimate effect of like the last record and the pandemic— feeling like, fuck that, I know what I want. And it's now, or never. So let's get out there and do it."
No Rules Sandy will follow the band's 2020 album Free Love.
No Rules Sandy Cover Artwork: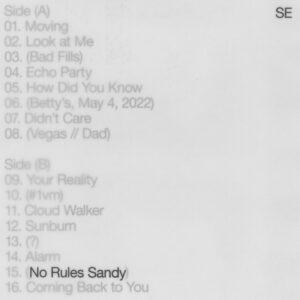 No Rules Sandy Tracklist:
1. Moving
2. Look at Me
3. (Bad Fills)
4. Echo Party
5. How Did You Know
6. (Betty's, May 4, 2022)
7. Didn't Care
8. (Vegas // Dad)
9. Your Reality
10. (#1vm)
11. Cloud Walker
12. Sunburn
13. (?)
14. Alarm
15. (No Rules Sandy)
16. Coming Back to You