Norwegian singer-songwriter Siv Jakobsen has announced her next album: Gardening will arrive on January 20 via The Nordic Mellow. It features the previously released tracks 'Birthday' and 'Most of the Time', as well as a new song called 'Romain's Place'. Check it out and find the album cover and tracklist below.
"Right before the pandemic hit, I was on a small tour and found myself back in a city I used to call home," Jakobsen said of the new single in a statement. "I hadn't been back since I left it (and the relationship I had there) behind a good few years ago. I felt quite shocked with how my body and mind reacted to being back, and realised quickly that I had some emotional unpacking to do. I was staying with my friend Romain at the time, and for me my time in his apartment encapsulates this realisation and the start of me dealing with these ghosts from my past that had laid dormant for a while. I was so overwhelmed at the time that it felt as if I was going crazy. I really did feel haunted, as if I had jumped into a time-machine and was somehow back in the past."
Gardening, the follow-up to Jakobsen's 2020 record A Temporary Soothing, was produced by Hans Olav Settem and Simen Mitlid, with Zach Hanson (Bon Iver, Hand Habits, Sylvan Esso, The Tallest Man On Earth) handling the mixing. It includes instrumental contributions from Emma Gatrill and Marcus Hamblett.
"Gardening tackles a particular relationship from my past, and its effect on me in the past, present and future," Jakobsen explained. "When writing it I felt I was doing a continuous and elaborate form of emotional gardening, whilst in real life I was tending to my modest but lovely garden in my home in Oslo. I found great pleasure and comfort in the physical task of gardening, weeding and tending to my modest patio of flowers and edible plants, and their colours and metaphors seeped into my writing. It is a record I am immensely proud of, and one that I hope can make others who have been through similar things feel seen and less alone."
Revisit our Artist Spotlight Q&A with Six Jakobsen.
Gardening Cover Artwork: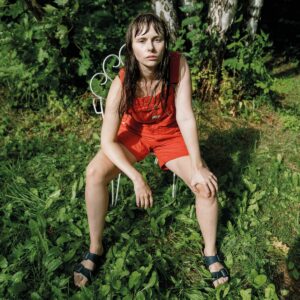 Gardening Tracklist:
1. Small
2. Romain's Place
3. Most Of The Time
4. Birthday
5. Bad By Design
6. Bad By Design (Reprise)
7. Tangerine
8. Blue
9. Sun, Moon, Stars [feat. Ane Brun]
10. Gardening
11. Gardening (Reprise)
12. The Bay