Richard Dawson has announced his new album, The Ruby Cord, which is due for release on November 18 via Weird World. The record's opening track, the 40-minute epic 'The Hermit', will also be accompanied by a short film by director James Hankins. Watch a trailer for it below.
Dawson's seventh studio album is billed as the final part of a trilogy that includes 2017's Peasant and 2020, delving into "a (sort of) sci-fi world where human society has collapsed and morphed into something distinctly less solid," according to a press release. "So many of us are moving into these fantasy worlds," Dawson explained. "Whether it's actual constructed virtual realities, computer worlds, or retreating into even more fantastical realms…. conspiracy theories, nationalism, amateur football punditry. People construct their own world because this one is so flawed."
The Ruby Cord follows Dawson's 2021 collaboration with Finnish metal outfit Circle, Henki.
The Ruby Cord Cover Artwork: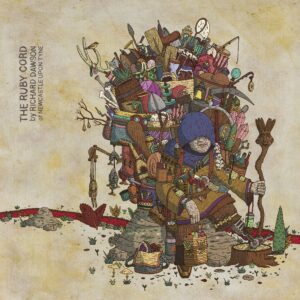 The Ruby Cord Tracklist:
1. The Hermit
2. Thicker Than Water
3. The Fool
4. Museum
5. The Tip of an Arrow
6. No-one
7. Horse and Rider