2022 is just about to wrap up, but it's hard not to look to the future to see what lies ahead. This past year was full of incredible releases, but the slate of new novels ahead in the coming year is sure to dazzle, surprise, and excite. Featuring a miniature black hole, climate fiction inspired stories, obsession and fetishization, we count down 20 new books out next year to add to your list.
---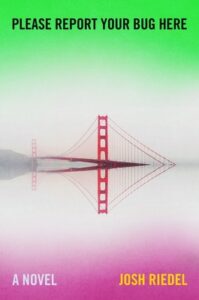 Josh Riedel, Please Report Your Bug Here (January 17, Henry Holt & Co)
Josh Riedel's debut novel follows debt-ridden Ethan Block, working at a tech startup called DateDate based in San Francisco. He takes a shot at the app he's spent his time developing, attempting to find his soulmate, and finds himself soaring through time and technology just to end up back at DateDate HQ. Riedel, a former employee of Instagram, offers a technology-tinder thriller/coming-of-age tale.
---
Jessica George, Maame (January 31, St. Martin's)
Split between two worlds, Maddie is trying to live her life in London, tending to her father with Parkinson's disease, and keeping track of her mother, who spends time in Ghana. She's ready to break out of her shell, and form a new version of herself: she dates on the internet, spends time with her coworkers, and makes up for lost time when she wasn't brave enough to do it before. When tragedy strikes her life, though, she needs to rethink what she puts her efforts towards.
---
Charmaine Craig, My Nemesis (February 7, Grove Press)
Previously longlisted for the National Book Award, Charmaine Craig's third novel is about a tense relationship with Tessa and Charlie, two writers who bond while emailing philosophical ideas to each other. When they finally meet, Tessa is at odds with Charlie's wife Wah, whose subservience and unadorned femininity come across to Tessa as weakness. Things come to a head in this intense psychological thriller about how our views differ between ourselves and others.
---
Jen Beagin, Big Swiss (February 7, Scriber)
In a sly novel about privacy and identity, Greta, a transcriber for a sex therapist, becomes infatuated with one of his new clients, referred to as 'Big Swiss' (as she's tall and from Switzerland). Greta perks up as Big Swiss talks about her trauma in a way that she's never heard before, and one day, when she recognizes Big Swiss' voice at a park, Greta goes undercover to find out more about the mystery woman she knows only by her most vulnerable moments.
---
Dizz Tate, Brutes (February 7, Catapult)
In a novel described as The Florida Project meets The Virgin Suicides, a posse of teenage girls in rural Florida orbit Sammy, the local preacher's daughter, interesting and cool because of her age. One day, Sammy disappears, and the girls' desire to find out what happened costs them the innocence of knowing just what's going on in their small town. 
---
Sonora Jha, The Laughter (February 14, HarperVia)
Said to be as disturbing as Lolita and A Little Life, journalist Sonora Jha's second novel revolves around Dr. Oliver Harding, an English professor who develops an obsession with a new colleague, the Pakistani Muslim Ruhaba Khan. Harding becomes a proto-mentor to Khan's nephew, Adil, and learns more about Khan and where her family comes from. Soon after, protests break out across campus due to its lack of diversity, and Harding quickly comes to reckon with his long-harbored feelings.
---
Colin Winnette, Users (February 21, Soft Skull)
Colin Winnette's first novel in five years is Users, an introspective look at the absurdities and quirks of start-up culture, technology, life, and how they all intertwine. Miles is a game developer whose newest invention takes off — to the point where his controversial game brings in death threats. As he becomes increasingly paranoid, he brings one more idea — a device code called the Egg — to the company, unsure if this will be the solution to separate his online and offline life.
---
Rafael Frumkin, Confidence (March 7, Simon & Schuster)
Two lifelong friends scam the world by promising instant enlightenment with their corporation 'NuLife', but things quickly spin out of control after realizing the scope of their idea. A novel that examines consumer culture, increasingly instant gratification, and friendship along our lives, Confidence reveals the American Dream's inherent absurdity.
---
Allegra Hyde, The Last Catastrophe (March 18, Vintage)
Allegra Hyde's second short story collection comes off the heels of her novel Eleutheria, a critically acclaimed look at a climate cult-utopia, and The Last Catastrophe keeps the recent theme of 'cli-fi' (climate change fiction) going. Across fifteen stories, Hyde's characters bond with artificial intelligence, grow unicorn horns, and traverse the solar system. Her imagination and imagined futures make any project feel new and inventive. 
---
Nana Kwame Adjei-Brenyah, Chain-Gang All-Stars (April 4, Pantheon)
Adjei-Brenyah's highly anticipated follow-up to his short story collection Friday Black, Chain Gang All Stars offers a dystopian vision of America centered around two women gladiators fighting for freedom in the prison system. At once a kaleidoscopic, imaginative examination of America's unjust prison system, and a fantasy-tinged spectacle, Chain-Gang All-Stars is likely to excite and provoke in equal measure.
---
Sophie Mackintosh, Cursed Bread (April 4, Doubleday)
From the author of 2020's dystopian Blue Ticket, Sophie Mackintosh's new novel Cursed Bread is a reimagining of an actual mass poisoning of the small French town Pont-Saint-Esprit, believed to be the result of cursed bread. In this novel about obsession, Elodie, the baker's wife, spots a new couple that has just moved into town and quickly latches onto their enigmatic orbit.
---
Julia Argy, The One (April 17, Penguin Random House)
For lovers of reality TV who enjoyed this year's Patricia Wants to Cuddle, Julia Argy's debut follows Emily, who is recruited for a TV dating show called The One. When she gets on set, though, everything is not as it seems, and her producer, Miranda, is curiously hell-bent on seeing that Emily's show arc is fulfilled with an engagement proposal at the end of the season. As the producers manipulate reality, as all the inner workings of 'reality' TV do, Emily is confronted with what she actually wants to do.
---
Deborah Levy, August Blue (May 4, Hamish Hamilton)
Memoirist, novelist, and two-time Booker Prize nominee Deborah Levy returns with August Blue, her first novel since 2019's The Man Who Saw Everything. Returning to Europe where her vibrant and hypnotic novel Hot Milk took place, August Blue features Elsa, a piano virtuoso, who stumbles upon a woman at the flea market buying toy horses that she immediately suspects is her 'double.' Combining identity, love, and a sense of adventure, Levy's new work is a worthy follow-up from the prolific writer.
---
Jenny Fran Davis, Dykette (May 16, Henry Holt & Co)
Unfurling over just ten days, Jenny Fran Davis' debut Dykette sees Sasha and Jesse, two Brooklynites, get invited to a December getaway by elite news host Jules Todd and her partner Miranda. A third couple also comes, and the triad spends days cooking meals together, relaxing in the sauna, until things come to a boil when two of them plan a live-stream performance that strings together a web of self-doubt and jealousy for Sasha.
---
Rita Chang-Eppig, Deep as the Sky, Red as the Sea (June 6, Bloomsbury)
Rita Chang-Eppig's adventurous, kaleidoscopic new novel begins with Shek Yeung's husband being killed by a Portuguese sailor. In order to remain in control of her fleet, she swiftly marries her husband's second-in-command, but trouble still arises when the Chinese Emperor is tasked with ridding the South China Sea of all pirates. In this historical fiction novel about adventure and bravery, we meet an instantly classic heroine.
---
Julia Fine, Maddalena and the Dark (June 13, Flatiron)
In Julia Fine's follow-up to the horror/thriller mediation on motherhood that was The Upstairs House, teenager Luisa practices her violin ruthlessly in the backdrop of 18th century Venice. She meets a friend in Maddalena, a newcomer at the school, who has a plan to ensure a bright future for her and Luisa, who immediately accepts. As the duo dive deeper into music, magic, and friendship, they are quickly forced to reckon with how far they're willing to go to get what they want.
---
Andrew Lipstein, The Vegan (July 11, Farrar, Straus & Giroux)
Co-founder of satirical projects "The Neu Jorker" and "Paul Ryan Magazine" blitzed the literary world with Last Resort, his 2022 debut about a novel thief, and returns next year with The Vegan. Challenging corporate morality and greed, New York elite hedge fund operator Herschel Caine plays an awful prank, attempting to impress his neighbors, but systematically ruins the career he's built for himself. Described by himself as a novel about (amongst other things) language, ZzzQuil, British playwrights, guilt, greed, and circumcision, The Vegan looks to be a worthy follow-up to his debut.
---
Sarah Rose Etter, Ripe (July 11, Scribner)
Author of cult classic The Book of X, Sarah Rose Etter, comes back with another slightly twisted tale. In her job at a Silicon Valley start-up, Cassie is encumbered with annoying bosses, ethically questionable projects, and cutthroat culture. She has a friend, though, a miniature black hole that feeds off of her neuroses and increases in size in relation to her stress. After her CEO's requests go too far, Cassie needs to figure out if this is the actual life she wants, and if not, how to escape.
---
Mona Awad, Rouge (September, Scribner)
Psychological horror genius Mona Awad returns with Rouge, her first novel since 2021's All's Well, a liminal and terrifying exploration of a theater director's experience with chronic pain and humiliation at the hands of teenagers. Little is known yet about the upcoming novel, but if it comes from the mind that wrote Bunny, a thriller about a posse of writing students that use spells to conjure up men from rabbits, it's worth checking out.
---
Isle McElroy, People Collide (2023)
Like Rouge, Isle McElroy's latest was recently announced and doesn't come with too much information. Described as a "gender-bending, body-switching" novel sold to fans of Freaky Friday or Natasha Lyonne's Russian Doll, McElroy explores marriage, identity, sex, and true partnership. McElroy's acclaimed and propulsive debut, The Atmospherians, followed a wellness cult aiming to rid the world of toxic masculinity that spiraled out of control.