Daft Punk's Thomas Bangalter has announced a new solo album called Mythologies. The LP  is an orchestral work, and it's slated for release on April 7 via Erato/Warner. Choreographer Angelin Preljocaj commissioned Mythologies for the ballet of the same name that premiered last year.
According to a press release, Bangalter's 90-minute score "does not draw on the resources of electronic music but instead involves the large-scale traditional force of a symphony and, as such, it embraces the history of orchestral ballet music in a gesture that is both personal and collaborative."
Daft Punk announced their breakup in 2021. The following year, they released a digital reissue of their debut album, Homework. Bangalter previously contributed to the soundtrack for Gaspar Noé's Climax.
Mythologies Cover Artwork: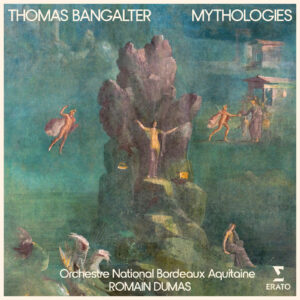 Mythologies Tracklist:
1. Premiers Mouvements
2. Le Catch
3. Thalestris
4. Les Gémeaux I
5. Les Amazones
6. L'Arrivée d'Alexandre
7. Treize Nuits
8. Danae
9. Zeus
10. L'Accouchement
11. Les Gorgones
12. Renaissances
13. Le Minotaure
14. Eden
15. Arès
16. Aphrodite
17. Les Naïades
18. Pas de Deux
19. Circonvolutions
20. Les Gémeaux II
21. Icare
22. Danse Funèbre
23. La Guerre