Indigo De Souza has announced the follow-up to her 2021 album Any Shape You Take. It's called All of This Will End, and it will arrive on April 28 via Saddle Creek. Today, the North Carolina-based singer-songwriter has shared the album's lead single, 'Younger & Dumber', alongside a video that features clothing she designed and constructed alongside her mom, Kimberly Oberhammer (who also created the album's cover art), as well as a mask designed by Henry Shearon. Check it out below, along with De Souza's upcoming tour dates.
"All of This Will End feels more true to me than anything ever has," De Souza remarked in a statement. Discussing 'Younger & Dumber', she said:
'Younger and Dumber' is a flood beam of my emotional and spiritual human experience. My growing up defeated by a world brutally littered with trash, violence and grief, and somehow finding beauty, purpose, and boundless love existing in the same place. This song felt really emotionally intense for me when I wrote it. I was sitting in my house and it kind of flowed right to me as if it had already been written by some other force. A lot of the lyrics are a nod to the idea that your experiences make you who you are. I endured some heavy darkness and dysfunction when I was a teenager. But if I hadn't been through those things, I wouldn't be who I am now. When you're young, you don't know any better, but you learn from your experiences, and then you become somebody who's been alive and learning. It's also about how heartbreaking that is; to start as a child with vivid curiosity, innocent imagination and joy, and for the world to end up being kind of brutal to be a part of. This song is a love letter to everyone's inner child. No one can prepare us for how insane it is to be alive. How many times we will have to rise from the ashes and what courage it will take.
Of the video, she added:
I took psilocybin for the shoot. I have a very specific way of dancing when I'm on mushrooms. The movements feel like electricity rising up from the earth through ancient networks of mycelium. It feels like the trees and plants are moving my body for me and I am just surrendering. It feels so clear to me now more than ever, how important it is to unabashedly embody my truest spirit. Because I am not special, and I'm fleeting, and it feels like it's my purpose to help mobilize others to come home to themselves. To wake from our societal sleepwalk and consider the importance in creating deep connection within community and relationships. To find a preciousness in the time we have and the earth we're nourished by. To see nature in all its primordial magic, as something to learn from and grow with. Something to protect.
Revisit our Artist Spotlight interview with Indigo De Souza.
All of This Will End Cover Artwork: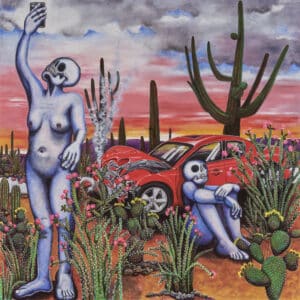 All of This Will End Tracklist:
1. Time Back
2. You Can Be Mean
3. Losing
4. Wasting Your Time
5. Parking Lot
6. All of This Will End
7. Smog
8. The Water
9. Always
10. Not My Body
11. Younger & Dumber
Indigo De Souza 2023 Tour Dates:
Mar 1 – Savannah, GA – Lodge of Sorrows
Mar 3 – Okeechobee, FL – Okeechobee Festival
Mar 11 – Birmingham, AL – Saturn
Mar 12 – New Orleans, LA – Toulouse Theatre
Mar 14-17 – Austin, TX – SXSW
Mar 18 – Fort Worth, TX – Tulips (Southside Spillover)
Mar 19 – Houston, TX – Secret Group
May 13 – Salt Lake City, UT – Kilby Court Block Party
May 17 – Madison, WI – The Majestic
May 18 – Chicago, IL – Thalia Hall
May 19 – Detroit, MI – El Club
May 20 – Toronto, ON – Opera House
May 22 – Boston, MA – The Royale
May 23 – Philadelphia, PA – Union Transfer
May 24 – New York City, NY – Webster Hall
May 26 – Hamden, CT – Space Ballroom
May 30 – Washington, DC – 9:30 Club
May 31 – Carrboro, NC – Cat's Cradle
Jun 2 – Atlanta, GA – Terminal West
Jun 3 – Asheville, NC – The Orange Peel
Aug 14 – Indianapolis, IN – TCU Amphitheater at West River State Park *
Aug 15 – Columbus, OH – KEMBA Live! *
Aug 17 – St Louis, MO – The Pageant *
Aug 18 – Kansas City, MO – Arvest Bank Theatre at the Midland *
Aug 19 – Minneapolis, MN – The Armory *
Aug 24 – Troutdale, OR – Edgefield *
Aug 25 – Vancouver, BC – Vogue Theatre *
Aug 27 – Bend, OR – Hayden Homes Amphitheater *
Aug 30 – Berkeley, CA – Greek Theatre at UC Berkeley *
Aug 31 – Los Angeles, CA – Greek Theatre *
Sep 1 – Del Mar, CA – The Sound *
Sep 6 – Las Vegas, NV – Brookly Bowl *
Sep 8 – Phoenix, AZ – The Van Buren *
Sep 9 – Santa Fe, NM – Santa Fe Opera *
Sep 10 – Morrison, CO – Red Rocks Amphitheatre *
* supporting Sylvan Esso