Water From Your Eyes have announced a new album, Everyone's Crushed, the duo's first since signing with Matador. It's scheduled for release on May 26. Today, they've shared the lead single 'Barley', alongside a video directed by the band's Rachel Brown. Check it out and find the LP's cover art, tracklist, and Water from Your Eyes' upcoming tour dates below.
"'Barley' is a rhythmic sound collage experiment drawing from modern classical, classic rock, and dance music," the band explained in a statement. "The lyrics suggest repeated futile attempts at attaining the unattainable and allude to Sting and Sonic Youth. The video mirrors these concepts in scope, texture, and variety – juxtaposing feelings of entrapment and late stage capitalism against the sense of freedom inherent to the vast American landscape. Despite all this heady bullshit the song is, at its core, fun."
Everyone's Crushed will follow the band's 2021 record Structure. Late last year, Brown released the solo collection You Haven't Missed Much under the moniker thanks for coming. More recently, the pair shared a remix of Winter's 'good'.
Everyone's Crushed Cover Artwork: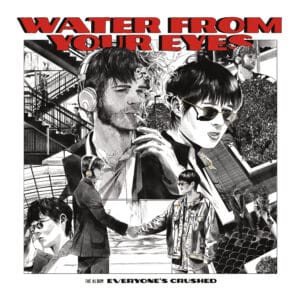 Everyone's Crushed Tracklist:
1. Structure
2. Barley
3. Out There
4. Open
5. Everyone's Crushed
6. True Life
7. Remember Not My Name
8. 14
9. Buy My Product
Water From Your Eyes 2023 Tour Dates:
Mar 16 Brooklyn, NY Residency Night #1 – Secret Location
Mar 24 Brooklyn, NY Residency Night #2 – P.I.T.
Apr 7 Iowa City, IA – Mission Creek Festival
Apr 8 Omaha, NE – Slowdown *#
Apr 10 Fort Collins, CO – Aggie Theatre *#
Apr 11 Boulder, CO – Fox Theatre *#
Apr 12 Salt Lake City, UT – Soundwell *#
Apr 13 Las Vegas, NV – Area15 *#
Apr 14 Bakersfield, CA – Temblor Brew #
Apr 15 Oakland, CA – Eli's #
Apr 16 San Luis Obispo, CA – Fremont Theater *#
Apr 18 Reno, NV – Cargo Concert Hall *#
Apr 19 Roseville, CA – Goldfield Trading Post *
Apr 20 Santa Cruz, CA – Rio Theatre *
Apr 21 Los Angeles, CA – Zebulon #
Apr 22 Phoenix, AZ – Trunk Space #
Apr 23 Flagstaff, AZ – Yucca North *#
Apr 24 El Paso, TX – Lowbrow Palace *#
Apr 25 Albuquerque, NM – Sister *#
Apr 27 Oklahoma City, OK – Jones Assembly *#
Apr 28 Fayetteville, AR – George's Majestic Lounge *#
Apr 29 Memphis, TN – Black Lodge *#
May 1 Indianapolis, IN – The Vogue *#
May 02 Cincinnati, OH – Woodward Theater *#
May 04 Morgantown, WV – 123 Pleasant Street *#
May 05 Richmond, VA – Friday Cheers *#
May 06 Winston-Salem, NC – The Ramkat *#
May 07 Atlanta, GA – Shaky Knees
Jun 24 Calgary, Alberta – Sled Island
* with Snail Mail
# with Dazy