Róisín Murphy has announced her next album: Hit Parade will be out September 8 on Ninja Tune. The 13-track LP was produced in collaboration with DJ Koze and includes the previously released single 'CooCool', which made our Best New Songs segment. Today, Murphy has shared a new song called 'The Universe'. Check it out along with the cover artwork and tracklist below.
"The universe at large is playful and terrifying," Murphy commented in a statement. "There is no discernible sense to it. The story that is always being told is on multiple levels, levels we don't see or understand. The experience of being alive is to be continually reminded of how utterly unaware we are of what is really going on all around us."
Introducing Hit Parade, she said:
This record is a collaboration with DJ Koze. We worked remotely, in different countries sending tracks/ideas back and forth for several years. I always have to approach a new collaboration with openness and a willingness to learn and never more so than with this.
The studio in this case was imaginary, in the airspace between Hamburg and London. That meant we were both in a personal, private place when working on the songs. For me that brought out a more intimate approach to the songwriting, I told this album my secrets. For Koze it meant total freedom and absolute focus without the distraction of my presence. He took a deep dive into himself and I believe that's why the music is so vibrant and alive. It is just exploding with colour!
It's a joyful record, I've never been happier, that is partly down to personal reasons but also in my work I've been very fulfilled. For me the record is about love and sensuality but also it's about music itself and how it's always been there for me. There are tinges of darkness, of the abyss, as well as all the joy. There's contemplation of mortality which is meant to serve as reminder to me (and perhaps you the listener) to really live while we can.
Back in 2021, Murphy released Crooked Machine, a remix edition of her 2020 album Róisín Machine.
Hit Parade Cover Artwork: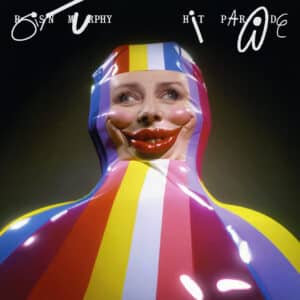 Hit Parade Tracklist:
1. What Not To Do
2. CooCool
3. The Universe
4. Hurtz So Bad
5. The House
6. Spacetime
7. Fader
8. Free Will
9. You Knew
10. Can't Replicate
11. Crazy Ants Reprise
12. Two Ways
13. Eureka