Hannah Georgas has announced her new album, I'd Be Lying If I Said I Didn't Care, which is set for release on August 25 via Real Kind Records. Today, Georgas has shared a new single from the record, 'Better Somehow'. which follows earlier offerings 'Beautiful View' and 'This Too Shall Pass'. It's accompanied by a music video directed by label mate Bess Atwell. Check it out and find the album cover and tracklist below.
"I'm trying to be more honest with my feelings and be more comfortable communicating them," Georgas said in a statement. "I think this track is quite vulnerable in that respect. It's about being less self-critical and accepting the side of me that's weird, insecure and has faults. I've been through many situations where someone has hurt my feelings by saying something offensive and I end up not saying anything about it and feeling resentful. I don't want to hold on to negative thoughts and let them eat away at me. I internalise a lot, and this song is about wanting to be more open."
I'd Be Lying If I Said I Didn't Care follows 2020's All That Emotion, which was produced alongside Aaron Dessner. Georgas co-produced the new LP with her partner Sean Sroka (of Ten Kills The Pack), and it features contributions from James McAlister, Graham Walsh, and Gabe Wax.
"This record is a big step for me from a creative standpoint and it feels like a true representation of where my writing and head is at," Georgas remarked. "This album means a lot to me and I'm really proud of it. It feels like a long time coming but also feels like it wouldn't have come together without all of the time and experiences I've had leading up to this."
I'd Be Lying If I Said I Didn't Care Cover Artwork: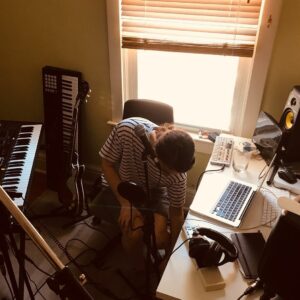 I'd Be Lying If I Said I Didn't Care Tracklist:
1. Scratch
2. What I Don't Want
3. Better Together
4. Beautiful View
5. Not The Name You Say
6. Fake Happy
7. Home
8. Virgo In Me
9. This Too Shall Pass
10. Drew's A Beast
11. Money Makes You Cool
12. Keep Telling Yourself