The watch world loves individualism. Expressing style and beliefs through design is a key component that comes into play when buying a watch no matter if you're buying a Patek Phillipe or a god-tier Casio. In this article, we've selected eight quirky and untraditional watches that are worth considering to buy.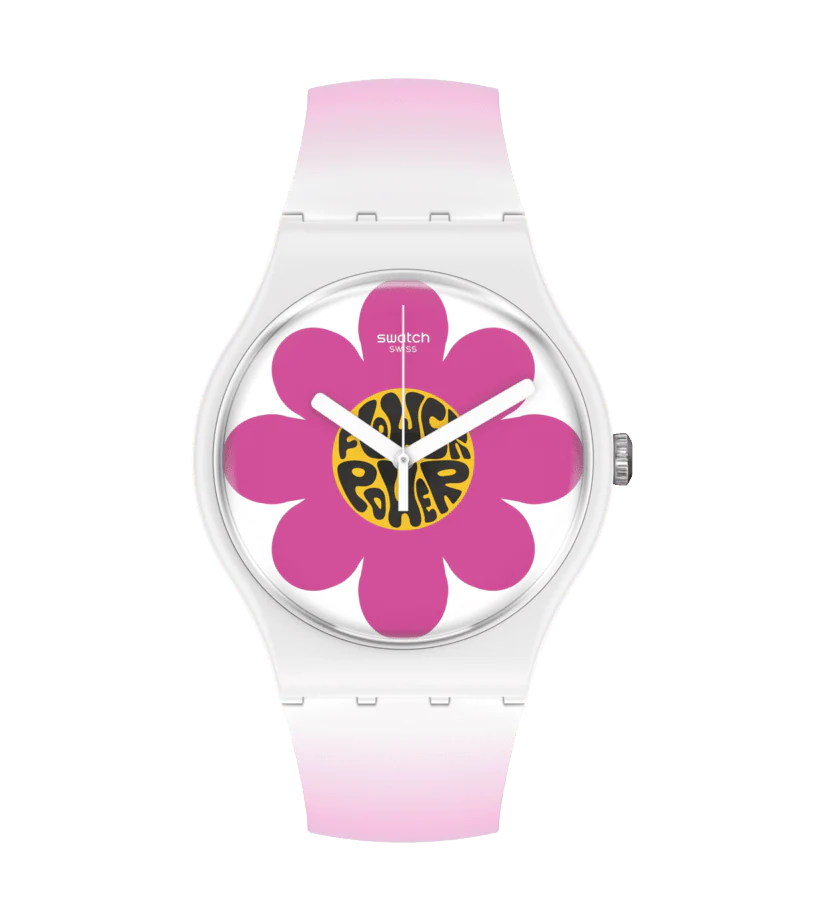 Swatch Flower Hour
Swatch's Flower Hour is a radiant ode to flower power with a '60s-inspired flair. This watch blooms life with its solid light-grey bioceramic case, bio-sourced glass, and a light-grey silicone strap adorned with a charming pink flower print.
Powered by a quartz movement and boasting a water resistance of 3 bars, it combines style and reliability for essential lifestyle use.
Skagen Grenen Solar Halo
Another budget-friendly option that is fun in design is the Grenen Solar Halo watch by Danish company Skagen which established itself in 1989, embracing Scandinavian minimalism. The watch runs on a solar-powered disc with a power reserve of 6 months from a full charge and is held by a stainless steel bracelet. The dial is the central piece that makes this a merriment watch, with its green, red, and blue colour pallet reminding us of a retro era.
Mr Jones A Perfectly Useless Afternoon
With more of a wacky than practical look on the list, we have A Perfectly Useless Afternoon by Mr Jones Watches. The piece is a terrific conversation starter and can be an entertaining addition to a more weighty watch collection that embraces unique dials over movements.
Diesel Solar Red
While not primarily a watch brand, Diesel, among other fashion brands, is known for producing watches that suit the general public. The Solar Red by Diesel is no exception, with its striking red colour, that is certainly different to typical daily watches. The watch carries a quartz movement and is made from castor oil which is also common in Fossil watches.
Swatch Hollywood Africans by JM Basquiat
Hollywood Africans by JM Basquiat certainly presents a unique reproduction of the renowned artist's work. The distinctive design showcases Basquiat's "Hollywood Africans" painting, seamlessly printed across the watch's dial, case, and strap. Incorporating crossed-out words and faces from the artwork creates a captivating visual contrast on the front. In contrast, the vibrant turquoise back and printed loop proudly display the artist's name. With a price tag of £91, it offers an opportunity to own a piece of iconic art on your wrist.
Swatch Proudly Yellow
This delightful timepiece by Swatch boasts a yellow-print dial and features bio-sourced glass and a bio-sourced case, demonstrating Swatch's commitment to sustainability — once again. With its striking yellow hue, this watch is a lot of fun and costs a reasonable £73.
Bulova & D-Cave Computron
Computron D-Cave fuses the iconic and nostalgic Bulova Computron timepiece with all the elements of the gamer lifestyle. The unique LED display displays hours, minutes, seconds, months, dates, and days. For avid gamers and Bulova-fanatics alike, this timepiece features luminous green accents, an automatic calendar up to 2099, and a silicone strap that makes it a worthwhile purchase.
Mr Jones The Accurate
The Accurate, also sometimes named "Remember You Will Die", is one of the most favoured watches by Mr Jones. The piece is simplistic but memorable as the hour hand reads "remember," and the minute hand reads "you will die." Truthful, deeply meaningful, and indeed a little funny, this watch is my personal favourite from the list.