Slowdive announce a new album: everything is alive is out September 1 on Dead Oceans. Today's announcement comes with the release of the new single 'kisses', alongside an accompanying Noel Paul-directed video. Check it out and find the album cover, tracklist, and Slowdive's upcoming tour dates below.
"If this video evokes emotion, it's largely due to our excellent cast," Paul commented in a statement. "In particular Charlie and Claudia, two courageous and beautiful souls who threw themselves into their roles and set a tone of fearless vulnerability."
everything is alive, Slowdive's fifth LP, arrives six years after the group returned with their self-titled album. It is dedicated to vocalist/guitarist Rachel Goswell's mother and drummer Simon Scott's father, who both died in 2020. "There were some profound shifts for some of us personally," Goswell said in a press release.
"It wouldn't feel right to make a really dark record right now," Neil Halstead explained, reflecting on the lead single. "The album is quite eclectic emotionally, but it does feel hopeful."
The new album, which began with Halstead working on demos at home, was originally conceived as a "more minimal electronic record" before the band's collaborative process led them back to their signature reverb-drenched sound. Shawn Everett was brought in to mix the LP's eight tracks.
"As a band, when we're all happy with it, that tends to be the stronger material," Halstead remarked. "We've always come from slightly different directions, and the best bits are where we all meet in the middle." Goswell added: "Slowdive is very much the sum of its parts," Goswell adds. "Something unquantifiable happens when the five of us come together in a room."
everything is alive Cover Artwork: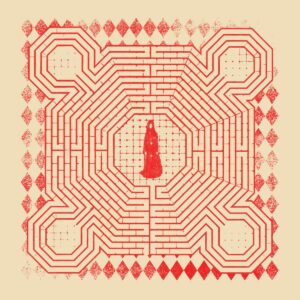 everything is alive Tracklist:
1. shanty
2. prayer remembered
3. alife
4. andalucia plays
5. kisses
6. skin in the game
7. chained to a cloud
8. the slab
Slowdive 2023 Tour Dates:
Jun 24 – Exeter, UK – Phoenix [sold out]
Jun 25 – Glastonbury Festival, UK
Jul 17 – Perth, Aus – Astor Theatre [sold out]
Jul 19 – Brisbane, Aus – Princess Theatre [sold out]
Jul 21 – Sydney, Aus – Enmore Theatre
Jul 22 – Melbourne, Aus – Forum [sold out]
Jul 23 – Adelaide, Aus – Hindley St Music Hall
Jul 26 – Auckland, NZ – Powerstation [sold out]
Jul 29 – Fuji Rock Festival, Japan
Aug 5: Off Festival, Poland
Aug 11 – Ypsigrock Festival, Sicily
Aug 18 – Green Man Festival, UK
Sep 23 – Toronto, ONT – Queen Elizabeth Theatre
Sep 25 – Boston, MA – Citizens House of Blues Boston
Sep 27 – NYC, NY – Webster Hall
Sep 28 – NYC, NY – Webster Hall
Sep 29 – Philadelphia, PA – Union Transfer
Sep 30 – Washington, DC – 930 Club
Oct 2 – Cleveland, OH – The Roxy @ Mahall's
Oct 3 – Chicago, IL – Riviera Theatre
Oct 4 – St. Paul, MN – Palace Theatre
Oct 6 – Denver, CO – Cervantes' Masterpiece Ballroom
Oct 7 – Salt Lake City, UT – The Union
Oct 9 – Portland, OR – Crystal Ballroom
Oct 10 – Seattle, WA – Showbox Sodo
Oct 12 – San Francisco, CA – The Warfield
Oct 14 – Los Angeles, CA – The Bellwether
Oct 30 – Glasgow, UK – QMU
Oct 31 – Manchester, UK – Ritz
Nov 1 – Bristol, UK – SWX
Nov 3 – London, UK – Troxy
Nov 5 – Belfast, UK – Mandela Hall
Nov 6 – Dublin, IE – National Stadium