Cass McCombs has teamed up with San Francisco preschool teacher Greg Gardner (aka Mr. Greg) for a new children's music album. It's titled Mr. Greg & Cass McCombs Sing and Play New Folk Songs for Children, and it's out August 18 on Smithsonian Folkways. Listen to lead single 'Wave a Flag for Harvey Milk' below.
The album contains songs Garnder wrote for his own students, with arrangements by McCombs. It will be released with an illustrated booklet featuring liner notes by Dublab's Mark "Frosty" McNeill, as well as suggested activities for parents and teachers that correspond to each song. "A lot of what's called children's music is just folk music," McCombs said in a statement. "So I don't see a big difference between children's music and adult music. To me, it's the same."
"A few years ago I created 'Wave a Flag for Harvey Milk' as a sing-along coloring book that I wrote and illustrated as a way to introduce my students to some of the positive things that Harvey Milk did for San Franciscans in particular and the LGBTQ+ community at large," Gardner explained. "Cass and the San Francisco Gay Men's Chorus then added their musical magic to the song. This year, my students were overjoyed to see the illustrations from the coloring book come to life in a rainbow of colors by the talented animator Cameron Burr. I hope that this video inspires children and their grown-ups to follow Harvey's lead to make positive changes in the world."
"Whenever we have a new project or we're learning about something new in class, I try to make a little song about it," Gardner continued. "I've noticed that it's a fun way to introduce new vocabulary, learn about new subjects, and foster a positive and musical classroom community. And as a kid myself, the things that I remember most vividly are those things that I learned through song. At that age, not everyone wants to sit and listen to the teacher talk, or even listen to a book. But a lot of kids tend to become engaged when there's movement and song and rhyme."
Cass McCombs released his most recent album, Heartmind, last year.
Mr. Greg & Cass McCombs Sing and Play New Folk Songs for Children Cover Artwork: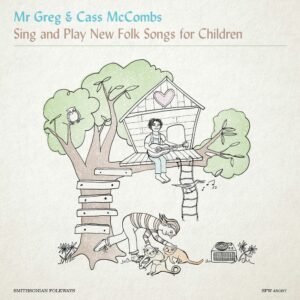 Mr. Greg & Cass McCombs Sing and Play New Folk Songs for Children Tracklist:
1. Little Wilma Wiggly Worm
2. Friends from All Around the World (Hello Version)
3. J-O-B
4. Requiem for Ruth Bader Ginsburg
5. A Builder's Got a Hammer and Nails
6. Each One of Us
7. What's Your Favorite Kind?
8. I'm a Nocturnal Animal
9. Paper Airplane
10. My Skull is Made Outta Bone
11. Wave a Flag for Harvey Milk
12. Things That Go in the Recycling Bin
13. Roll Around Downtown
14. Deciduous Tree
15. We Build a Lot of Muscle as We Exercise
16. The Sounds that the Letters Make
17. Who Are You?
18. Together with You
19. Oona Louise, My Friend
20. Friends from All Around the World (Goodbye Version)