Zach Condon has announced his first new Beirut album in over four years. The Gallipoli follow-up is called Hadsel, and it's set to arrive on November 10 via his own Pompeii Records. Today's announcement comes with the release of the lead single 'So Many Plans', which you can check out below, along with the album artwork and tracklist.
After persistent throat issues forced him to cancel the end of Beirut's Gallipoli tour, Condon retreated to Hadsel, an island far up in the northern part of Norway in the middle of Vesterålenfar, in early 2020. There, he met a collector and fellow organ enthusiast named Oddvar, who provided him access to the local Hadselkirke, a wooden, octagonal structure dating back to the early 1800s that housed the first church organ that Condon would play.
"During my time in Hadsel, I worked hard on the music, lost in a trance and stumbling blindly through my own mental collapse that I had been pushing aside since I was a teenager," Condon reflected in a statement. "I was left agonising many things past and present while the beauty of the nature, the northern lights and fearsome storms played an awesome show around me. The few hours of light would expose the unfathomable beauty of the mountains and the fjords, and the hours-long twilights would fill me with subdued excitement. I'd like to believe that scenery is somehow present in the music."
Of 'So Many Plans', Condon added: "I liked that this song struck a balance between the feelings of acceptance, hope and giving up. The lyric came from a covid-times lament that rolled effortlessly into a kind of short lullaby. The instruments were somewhat unusual for me at the time, having dusted off a baritone uke I never used before to join the album's primary instruments of either pump or church organ and the modular synthesizer as percussion and bass."
Back in 2021, Beirut released Artifacts, a compilation of unreleased tracks, early works, EPs, and B-sides tracing the project's evolution.
Hadsel Cover Artwork: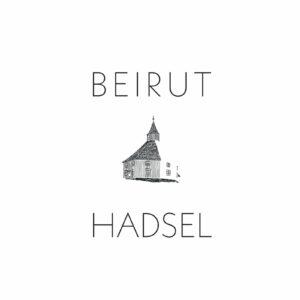 Hadsel Tracklist:
1. Hadsel
2. Arctic Forest
3. Baion
4. So Many Plans
5. Melbu
6. Stokmarknes
7. Island Life
8. Spillhaugen
9. January 18th
10. Süddeutsches Ton-Bild-Studio
11. The Tern
12. Regulatory