Mannequin Pussy have announced their new album, I Got Heaven, which lands on March 1 via Epitaph. The follow-up to 2019's Patience was produced by John Congleton and includes the previously released title track as well as a new single, 'I Don't Know You'. Check out its accompanying video, directed by Mason Mercer and Anthony Miralles, and find the album cover and tracklist below.
"This is simply a song about having a crush," the band's Marisa Dabice explained of 'I Don't know You' in a statement. "About the excitement and playful fantasy that can come from meeting someone unexpectedly at a festival, or on the street, or in line at the grocery store. You don't know when you'll see them again but the rush of their possibility lingers, making you yearn to know more about them."
Commenting on the album's themes, Dabice said: "We're supposed to be living in the freest era ever so what it means to be a young person in this society is the freedom to challenge these systems that have been put on to us. It makes sense to ask, what ultimately am I living for? What is it that makes me want to live?"
Back in 2021, Mannequin Pussy released the Perfect EP.
I Got Heaven Cover Artwork: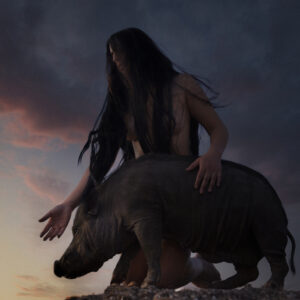 I Got Heaven Tracklist:
1. I Got Heaven
2. Loud Bark
3. Nothing Like
4. I Don't Know You
5. Sometimes
6. OK? OK! OK? OK!
7. Tell Me Softly
8. Of Her
9. Aching
10. Split Me Open