Joanne Nam a US-based artist creates dreamy oil paintings.
You may have already seen some of her fantastic work in one of our features already, this interview is with the lovely Joanne Nam.
Are you working on anything new and exciting?  
I have commissions going on, these are taking most of my days. I'm planning to have about three, up to four group exhibitions in 2018 which is, very fortunately, mostly scheduled with amazing galleries. Also, I'm planning my art book that'll be out. I get so excited about this. I don't know when but I know it will happen. I work on my personal paintings besides of commissions so I can feature them in my book. Recently, there was a new addition to my online shop which has been a great success and an amazing experience for me. I'm so grateful for all the opportunities, even troubles that I have to encounter as an artist. 🙂 I will update about group exhibitions on my social media whenever the time comes! Thank you.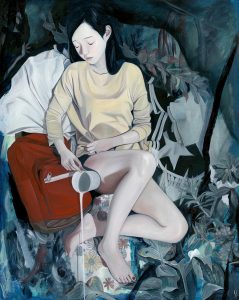 Why and how did you become interested in painting?
Someone left a comment on my social media that she wants to follow her dream instead of being at somewhere that she doesn't feel the passion. I really want to encourage everyone to chase after their dream if they have that small voice that tackles them in daily life.
I decided to commit my lifetime to pursue in art, even though everyone I know told me how hard my life would be and how unrealistic my dream was. I remember a stranger that I once met at a car repair shop, had told me that I should be a grandma that can pay my grandchildren pocket money time to time and art won't make me that kind of grandma. I've experienced disrespectful opinions some people had to say about my dream. When I say I am an artist and I want to keep making art, they see me as "poor" or "about-to-die-starving" person and think that I was being "irresponsible" about my life. A guy I once dated had told me I should be someone people needed. He got kicked out of my life right after he said it. I'd experienced this for years after I graduate college, and I decided not to give a care. Years later I finally had the nerve to ask them back, "So, are you a multi-billionaire?"
I haven't changed my mind at all. The main reason is just so simple. Art is one thing that I am best at out of everything I've tried, and I am happiest doing it. I love watching me growing in art and obsessively creating ideas every day. And I have fun doing it. Time flies. Every day's too short for me. My curiosity runs wild whenever I think about what I'll become if I continue doing this. For some reason, I have a strong feeling that almost makes me think that I do know for sure, I have a good future ahead. I'm in the progress of it. Nobody can change this feeling. I think about ideas for my art and other things I want to create related to my art all day. I feel the heart-beating passion about them. I don't need coffee. I become caffeinated whenever I imagine. I don't feel this way with any other jobs those worriers recommended. I'm sorry, worriers. I know I've made my choice and it is a crazy good one.
How long does it take you to finish one of your paintings?
It really depends on size and detail level that I head for. If the size of the painting is large and requires detailed foliage, it will obviously take longer time than simple and small portraiture. However, that doesn't mean small works are easier to create. If I get a small commission but that requires a lot of details, it takes almost the same amount of energy and time as if I'm painting a large painting. I actually love painting small though.
Any personal painting tips/techniques?
I believe most important thing would be consistency. Be persistent and decide not to give up. Having good brushes is one of my things that I keep up with.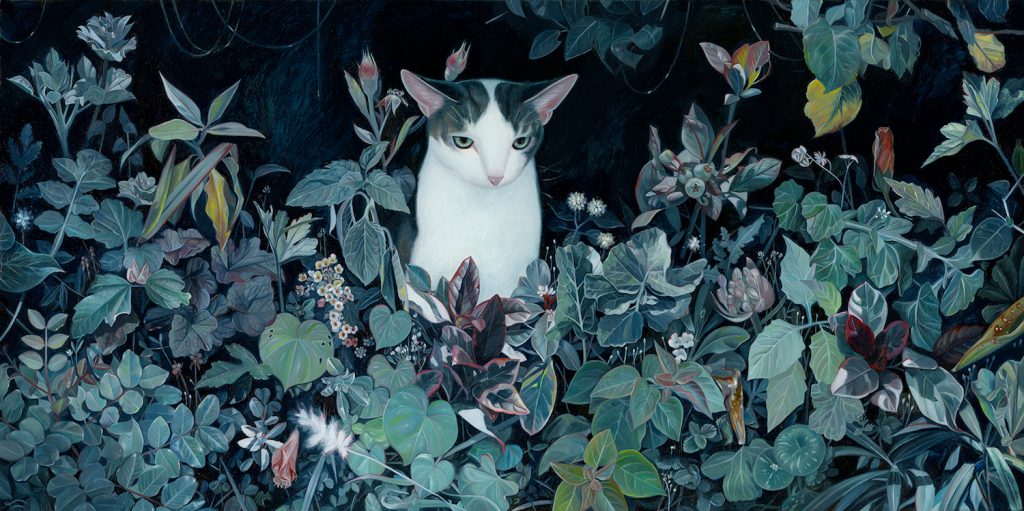 What's it like being an artist in the age of social media?
I think this is an amazing time to live as an artist. We are the first generation that has easy access to huge numbers of audiences. I'm just so thrilled knowing that I'm living in this era. We can get to our collectors, supporters, and galleries so easily nowadays. It surely changed art world. How am I going to use it, that is the question I'm working on.
What's your source of inspiration?
Nature is big. I love to go hiking for hours whenever possible and see the forest. I love going to gym too. Physical activities refresh my brain and my mind. I think this is important to anyone. Visiting galleries and looking at art are very good exercises and give lots of inspiration, but personally, I get exhausted about life sometimes when I'm surrounded by a sea of art and have to stay in my studio with lack of physical activity.  
Do you have any creative routines?
Every morning is really important part of my day. I wake up early, sometime in between 3 to 6 and, occasionally,  meditate for about 3 to 5 minutes. My meditations are (really) short but they help. I make myself some tea and start painting. I love starting my days like that. A few hours later, I'll be off to the gym.
Taking breaks between hours of work is absolutely necessary. Working hard is great but for a very long time, I misunderstood the concept of hard work. I feel that enjoying life enhances the productivity and creativity. Working 12 or 13 hours every day is very respectful but if one's not taking enough time away from work, it only leads to misery. I love staying far away from art sometimes and experience good or bad things that life has to offer. Hang out with friends. Stay active. Do something fun that is not artsy. I don't think any of this is a waste of my time anymore. Literally, anything in life is just so great for creativity. I'd rather stay relax and appreciate my life. My life feels much much better this way.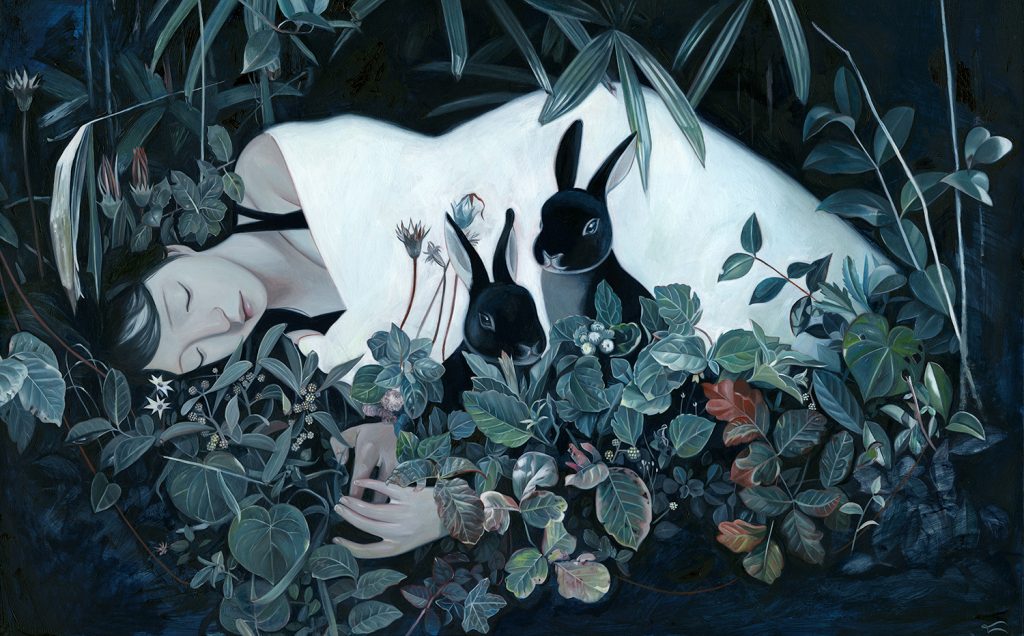 What role does the artist have in a society?
I believe we are here to create art and bring up your life to the next level. Try to imagine a world without art. No drawing, No design or painting. No music, no literature. Black and grey. No rainbow. No creativities. Nothing. I feel that would be a terrible empty hell one could ever live in. Nowadays, people's perspective in art has changed a lot. Artists get to appreciated and respected more than those artists who lived a long time before, dedicated their lives to bring this current generation to this world. We now have the giant window called social media to express ourselves, reach out to people and connect to the world. Artists are here to make things better, feeding people's mind with beautiful energy.
What do you hope to accomplish with your art?
I want to help. I want to become the person who can help others. I'm living the age of social media. It never happened before, and it is bringing so many big potentials in creative careers. I'll do everything I can to learn, experience, and make my own success. Ultimately, I want to become someone who helps next generation artists who'll live this era, with my knowledge and finance. I'll be happiest if I see someone living the better life because of me. I think this is a wonderful dream to have.
Any advice for aspiring artists?
Keep going, keep moving forward. Set little goals every day and celebrate every time when you get there. Truly be happy for other artists for their success! Be thankful that you have choices.
To find more out about Joanne Nam check out her social media links: