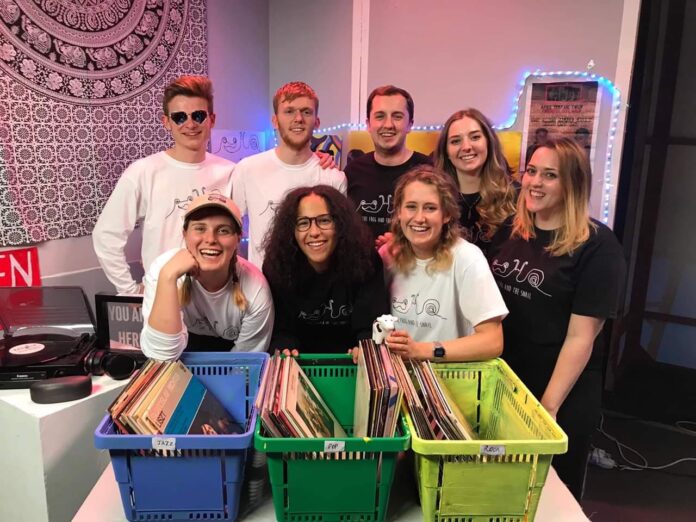 Róisín Chapman and Kieran Anscomb, filmmakers and collaborators on the upcoming short film About That Girl, joined us for an interview to talk about the idea of the film and how it all came about.
Hi, how are you?
Róisín: Hi, we're very well thank you. Excited for the break we'll get over Christmas before we go into the final stages of pre-production before filming.
Kieran: I'm a high functioning drug addict currently detoxing over the Christmas break, how do you think I'm doing?
Pretty well? So, whose idea was About That Girl?
Róisín: About That Girl was primarily Megan and Aurora's idea, they are our DoP and production designer. However, they let our writer, Kieran, do his first draft with no hints from then. Then from there, it seems to have been quite a collaborative process between the three of them.
Kieran: Okay let's clear this up. They came up with the title and character names, and told me Fred fell in love with this mysterious girl, then spent the next day trying to find her. Oh and I also had to include a record store, that was vital apparently. But the further along we got developing the idea, we sort of formed this little team where we would spend hours upon hours bouncing ideas off each other, then I would go away, bang out a draft, and then go back and see what they thought of it first. We've repeated this process so many times I've actually forgotten what we're supposed to be writing about, I think it's still a romantic comedy, but I can't be sure.
How did the crew come together?
Róisín: We were all quite good friends before we started the project. So once we found out that About That Girl had been chosen we just agreed who we thought would be best in which role. Then we started pre-production almost immediately and had our first group meeting only a day or so after.
Kieran: I knew of them and could tolerate them before the project. But I needed a gig, so I pestered and pestered them until they let me join. After having worked with them for about three months, I can still just about tolerate them.
Stylistically, what films and culture influenced this film?
Róisín: We have a few influences for this film. We have two aesthetic themes during night and day. At night we use a neon vibe, for that we looked at movies such as Nerve and Maniac, on Netflix. About That Girl is set in the alternative 80's so there'll be some retro elements to the film such as the clothes they wear and the fact that they listen to records, although records have made a comeback in the last couple of years, but it's things like that which will just add to the bright and evocative colours bringing a distinct and personal style to our film. Then during the day, we want a more natural feel, so we focus on pastel colours. This was inspired by movies such as 500 Days of Summer and What If. I'm hoping this will make the night scenes seem more intense and passionate whereas the day will be softer and more comfortable. As for the edit, our main inspiration is Edgar Wright, especially, Scott Pilgrim vs. The World as when it comes to the transitions, that man is a genius. He can manage to transition a scene so seamlessly the audience barely even notices, and that is what we are trying to achieve in About That Girl.
Kieran: What she said.
How would you describe the film in three words?
Róisín: I would say, adventurous, comradery and charming
Kieran: Exceedingly well written.
Will there be a sequel to About That Girl?
Róisín: Not that I'm aware of however there may be a spin-off with the band in the film, The Frog and The Snail.
Kieran: Fuck me let us finish the first one first. Although we have had a couple of meetings about developing the relationship between Caleb and his hip flask in a further spin-off film, you'll understand once you've seen the first one that we haven't yet finished making.
When are you planning to film and release the film? Also, are you planning to have a film festival run?
Róisín: So the film will be screened on the 22nd of May at Vision's Festival in the University of Hertfordshire. Then after that, we will be sending a private link to all of the kind people who donated generously to our IndieGoGo campaign.
Then we are hoping to submit it to as many film festivals as we can such as Cannes, Sundance, Toronto, Raindance and then also I've been scouring the internet for lesser-known festivals such as the Flatpack Film Festival and Encounters, so we can apply to as many that'll have us.
After the festival run, we will then release the film online for the world to watch but that will after all the festivals in 2020.
Thank you so much for speaking with us. I can't wait for you to see the film and tell us what you think. If you want to find out more, you can go to our website here.
Thank you for joining us Kieran and Roisin!
If you would like to follow the progress of About That Girl, you can follow their Facebook, Instagram, Twitter and YouTube. Donations to the film can be made here.