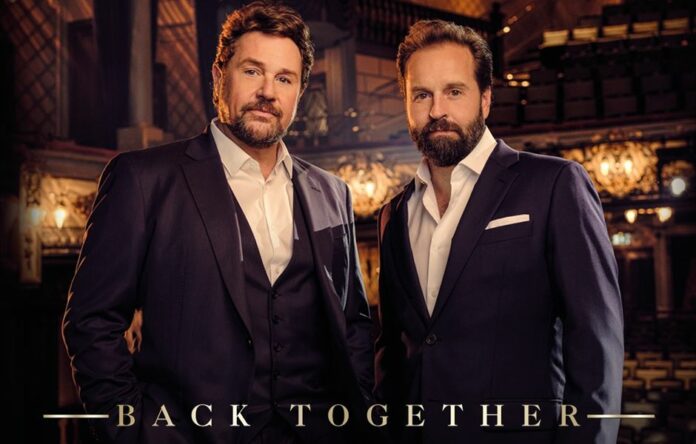 Oftentimes a doctor will prescribe two medications, recommending they be taken together to enhance their restorative powers. Readers, I am your doctor. Michael Ball and Alfie Boe are your medicines.
The release of Ball and Boe's Back Together has been anticipated everywhere, especially by swooning fans of bearded big-voiced men. Being one of the swooning, my music queue awaited the arrival of Back Together with eagerness. My boys Ball and Boe did not fail to disappoint.
Ball and Boe are brilliant buddies.
Alfie Boe, a.k.a. "he of the operatic voice", is a highly trained tenor who has conquered Broadway and the West End, while serving as a celebrated Jean Valjean both this year and at Les Misérables' 25th anniversary concert. Then there's Michael Ball, a.k.a "he who miraculously has no need of vocal training". Ball has built a successful career as soloist and performer, breaking hearts as Marius in the original Les Mis, Alex in the original Aspects of Love, and Raoul in an early Phantom.
Ball joined Boe in this year's production of Les Mis, this time as the unrelenting Inspector Javert. Their working relationship and adorable Instagram posts identify the two as great friends. But – are buddies Ball and Boe a brilliant vocal team? The answer is a resounding 'Yes!'
Ball and Boe are kings.
Like its Platinum predecessors, Together and Together Again, Michael Ball and Alfie Boe's Back Together is a sassy schmorgesborg of music genres. The combination of Boe's boisterous vibrato and Ball's punchy insistence has the power to take on musical theatre, easy listening, pop and rock with equal majesty. Teamed up, these champs of stage and soundtrack are mighty vocal kings.
The track list for Back Together demonstrates the boys' prowess with both big hits and underestimated ballads. There are several songs of which I thought myself thoroughly sick – Apparently, I'm not sick of them! At least not after hearing them rendered by Ball and Boe. Their "Circle of Life" and "The Greatest Show" is heard by fresh and happy ears.
Classic tracks are supplemented by unique and delightful choices, including a brilliantly arranged "Queen Medley". But among all these, "Wishing You Were Somehow Here Again" truly stands alone. Ball and Boe sing the Phantom aria better than any Christine. That is the mark of a successful partnership in music.
Ball and Boe are even better together.
If you're looking to fall in love, laugh, weep or smile, allow me prescribe Michael Ball and Alfie Boe's Back Together. The recommended dosage may increase, as more Ball and Boe collaborations occur. And there needs to be more collaborations. Perhaps another album, this time titled Better Together? For in spite of their individual brilliance, "Ball and Boe" is the number one recommended brand, unmatched in effectiveness and strength.
Better Together can be purchased on Michael Ball's and Alfie Boe's websites, along with tickets for their 2020 live tour.