UK post-punk outfit TV Priest have announced their debut album titled Uppers, out November 13th via Hand In Hive. The band have also previewed the upcoming LP with a fiery new single called 'This Island', along with an accompanying music video animated by Ewen Farr. Check it out below, and scroll down for the album's cover artwork and tracklist.
"It's a record that embraces uncertainty, that renewed friendships, and helped us through some strange and tough times," the London four-piece wrote on social media. "We hope it can do the same for you."
Speaking about the new single in particular, TV Priest frontman Charlie Drinkwater said: "'This Island' is about incoherence and inarticulate responses, both personal and political, in a time and place you don't fully understand anymore. It's an unrequited love letter, and a howl of frustration; a mea culpa and a call to arms. We wrote this to an increasingly nationalistic and isolationist drum beat playing out at home and abroad, and frankly we are scared and appalled."
He added: "As artists we aren't offering up solutions for living, but maybe we can extend a hand and let someone know that you aren't alone in feeling under prepared in your responses yet powerful in your convictions. That small boats can still make big waves. That we have a world to win."
TV Priest previously released the tracks 'House of York' and 'Runner Up'. Back in May, we caught up with the band for our feature on how the COVID-19 crisis is affecting independent artists.
Uppers Cover Artwork: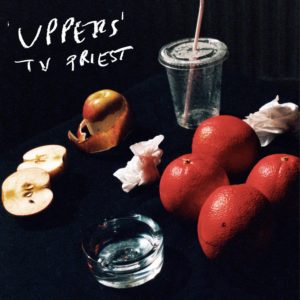 Uppers Tracklist:
The Big Curve
Press Gang
Leg Room
Journal Of a Plague Year
History Week
Decoration
Slideshow
Fathers And Sons
The ref
Powers of Ten
This Island
Saintless