Just a couple of months after its debut, Teenage Bounty Hunters became the latest Netflix original series to be cancelled after a single season. News of the show's swift end might have been somewhat overshadowed by the announcement that fellow Jenji Kohan series GLOW would not proceed with Season 4 at Netflix, but it also revealed a larger, more unnerving pattern of female-centric and LGBTQ+ friendly shows being given the axe. Teenage Bounty Hunters also marked the third show in the coming-of-age/teen genre to be cancelled after its first season this year, following I Am Not Okay with This and The Society, both of which were led by female protagonists and received generally positive reviews.
Since these shows are Netflix originals, and the platform automatically green-lights entire seasons at a time, Deadline compares this to "passing on a pilot."  But given the circumstances surrounding COVID-19, it seems unlikely that Netflix's decision not to go forward with them had anything to do with quality or even popularity. In fact, we know that GLOW, I Am Not Okay with This, and The Society were scrapped due to production difficulties caused by the coronavirus pandemic, though it has not been confirmed that this was the case for Teenage Bounty Hunters. The show might have been criminally underpromoted and thus overlooked, but it still cracked the Nielsen Streaming Rankings Top 10 the week after it premiered, garnered widespread critical acclaim, and amassed a considerable online following during its short run.
But while the real reason Teenage Bounty Hunters was cancelled will probably remain a mystery, it's not hard to see why fans called it one of the best and funniest shows on the platform. The show immediately delivers on the premise of its title – it centers around a pair of 16-year-old fraternal twins, religious good girl Sterling (Maddie Phillips) and the rebellious Blair (Anjelica Bette Fellini), who team up with veteran bounty hunter Bowser Jenkins (Kadeem Hardison) and start bringing in local criminals while also having to navigate the complexities of adolescent life. But while some viewers might have skipped on it precisely because of its straightforward but slightly gimmicky title – I'm sure the trailer also induced at least some amount of Kadeem Hardison-style eyerolling – Teenage Bounty Hunters quickly manages to transcend that premise by going much deeper than anyone could have expected. Set against the backdrop of a conservative Southern community, it brilliantly balances elements of a raunchy teen comedy, a heartfelt family drama, an entertaining crime procedural, a social satire, and a slow-burning mystery thriller, all without completely falling apart at every turn.
At the core of the show, however, is the natural chemistry between Fellini and Philips, whose wonderfully dynamic performances anchor Teenage Bounty Hunters from start to finish. In fact, you could get rid of the Bounty Hunters portion of the series and the story would probably work just as well, at least if they somehow managed to keep Hardison's role in all of it – the surprisingly familial bond they develop with his character leads to some of its most endearing and hilarious moments. Written and created by Kathleen Jordan, the show isn't afraid to be a little ridiculous, both in its humour and its mystery, but it's also grounded in the human drama of these characters as they tackle complicated relationships (be it with other fictional characters or a certain K-pop phenomenon), question their beliefs, and uncover dark family secrets. It channels the delightful comedic energy of Booksmart and champions sex positivity in a similarly nuanced and empathetic way as Sex Education, but it's also something uniquely of its own. Teenage Bounty Hunters may not have been perfect for everyone, but it did more than enough to stand out from the onslaught of teen shows currently populating the streaming platform.
Which is precisely why it feels too early to have to refer to it in the past tense.
Upon hearing the news, I was inevitably reminded of two other beloved coming-of-age shows that were cancelled after their first season: Freaks and Geeks (1999-2000) and Everything Sucks! (2018). The first was partly doomed from the start due to its Saturday night time slot on NBC, while the latter, another Netflix original, gained a small and loyal fanbase but struggled to cut through to a mass audience. Like many, I was introduced to Freaks and Geeks as a teenager during its stay on Netflix; as for Everything Sucks!, I recently discovered it after Our Culture contributor Rachel Chandler deemed it a "hidden gem" (which it very much is). What made my experience with Teenage Bounty Hunters different, however, was that it marked the first time a show's premature cancellation was actually news and not an already known fact – which only intensified that familiar feeling of heartbreak that comes with watching a show you love come to an end, whether untimely or not.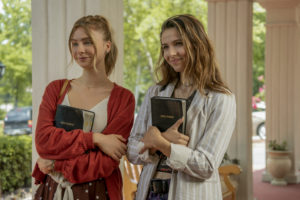 For those of us who are used to either getting fresh new content every second of the day or having a bunch of it dumped all at once, even waiting a certain period of time for a new season presents somewhat of a challenge. Teenage Bounty Hunters was (is?) an eminently watchable show, and I'm sure many people binge-watched all 10 episodes in less than a few days – if they're anything like me, the same viewing pattern might be applied to a show like Freaks and Geeks, which probably wasn't meant to be experienced in that way. But while some might argue this means that viewers will have had less time to cultivate any meaningful attachment to the show's characters, the fact that there is currently a petition to save Teenage Bounty Hunters (nearing 10,000 signatures at the time of this writing) proves that their enthusiasm is certainly no less fervent.
Beyond offering plenty of memes, a quick browse through the #SaveTeenageBountyHunters hashtag is enough to give you a sense of just how serious these fans are about bringing the show back: we're talking evidence-based, well-substantiated arguments aimed at basically every streaming platform there is in the hopes that at least one of them might pick it up – and these efforts are being promoted by the show's stars, too. The fact that the cancellation of a show with a relatively unknown cast produced this much grief and anger is only a testament to how much joy it brought, especially during this time of great uncertainty for young adults. But while it would certainly be nice if Teenage Bounty Hunters were to be remembered as a show that offered some semblance of normality and a dash of genuine excitement in the midst of it all, fans would understandably much rather fight for it stay than admit that this is really happening – especially since the season ended on a serious cliffhanger.
In a moving gesture, creator Kathleen Jordan recently took to Instagram to share a letter she wrote when she was nine to the two best friends who "gave her away" to another friend group. "We were like The Three Musketeers fighting crime and doing everything together," it reads. "Now we have to pack our bags, of memories and faith. As I get in my car, I slowly start to drive away. Departure is hard. We often want to look back on the street we know, but it will only make it harder. Strange things are on this new street, things I'm not familiar with. I will adapt. Best wishes for your new road."
Because it was cancelled by Netflix itself rather than by another network, some say that this probably really is the end of the road for Teenage Bounty Hunters, a show that captured the intensity (and cheesiness) of teenage emotions unlike any other to come out in 2020. Even if chances of it being picked up by another platform are slim, that doesn't mean there's no future for it: the series has all the right ingredients to become cult favourite in the years to come, much like Freaks and Geeks and Everything Sucks! before it, and fans will do everything in their power to ensure it doesn't stay overlooked. And it certainly doesn't mean there isn't a new road ahead for the team that made it possible in the first place.
Still, departure is hard. And for those of us who found refuge in the show's unbridled irreverence as well as its heart over the past few months, it's probably going to be a slow burn. But as with any ending, it's hard not to cling on to the kind of hope that April (Devon Hales), one of the show's most complex characters, expresses during the final episode: "Maybe someday, though."