Common has announced a new project titled A Beautiful Revolution Pt 1. It's out this Friday, October 30, via Loma Vista. The rapper has also previewed the LP with new single called 'Say Peace', featuring Black Thought and PJ. Check it out below, and scroll down for the record's cover artwork and tracklist.
A Beautiful Revolution Pt 1 includes seven new songs and two interludes. "Beautiful Revolution Pt 1. is affirmation," Common said in a press release. "It's recognition. It's elevation. It's music to go with a movement. Because the truth is, there is still so much work to do. Regardless of the outcome of the election, we need to make sure things do not return to the status quo. The intention of the music is to channel all of our pain and outrage into something productive, inspirational, and good. It's to help lead a movement into our next phase of the work to be done."
The collection's cover artwork is based on photography from Ghanaian artist Derrick Boateng. A Beautiful Revolution Pt 1 will be accompanied by a full-length film directed by Mark Leibowitz, which will feature Common's full band performing in vibrant environments inspired by Boateng's work.
Upon release day, Common will be hosting an album listening experience on his Youtube channel. The rapper's last album was 2019's Let Love.
A Beautiful Revolution Pt 1 Cover Artwork: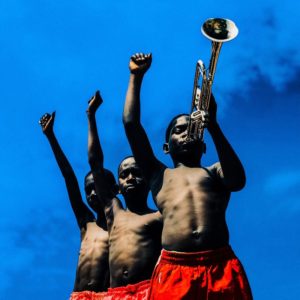 A Beautiful Revolution Pt 1 Tracklist: 
1. Fallin
2. Say Peace
3. Courageous
4. A Place In The World
5. Get Used To It
6. Don't Forget
7. What Do You Say