Michelle Zauner a.k.a. Japanese Breakfast has announced a new album called Jubilee. It arrives on June 4 via Dead Oceans. Zauner has also shared the album's first single, 'Be Sweet', alongside an accompanying video that pays tribute to the cult sci-fi show The X-Files. Check it out below, and scroll down for the LP's cover artwork and tracklist.
Jubilee marks Japanese Breakfast's third album and her first since 2017's Soft Sounds from Another Planet. "After spending the last five years writing about grief, I wanted our follow up to be about joy," Zauner explained in a statement. "For me, a third record should feel bombastic and so I wanted to pull out all the stops for this one. I wrote 'Be Sweet' with Jack Tatum from Wild Nothing a few years ago. I've been holding onto it for so long and am so excited to finally put it out there."
In addition to the new album, Zauner will publish a memoir titled Crying in H Mart on April 20, expanding on her 2018 piece for The New Yorker. Last year, Zauner formed Bumper with Crying's Ryan Galloway and released the pop songs 2020 EP.
Jubilee Cover Artwork: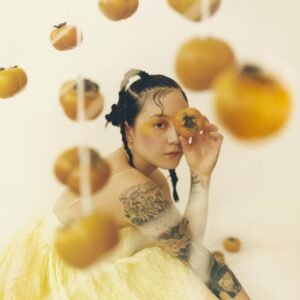 Jubilee Tracklist:
1. Paprika
2. Be Sweet
3. Kokomo, IN
4. Slide Tackle
5. Posing in Bondage
6. Sit
7. Savage Good Boy
8. In Hell
9. Tactics
10. Posing for Cars