Montreal producer Mike Silver a.k.a. CFCF has announced a new album called Memoryland. The follow-up to 2019's Liquid Colours comes out on April 9. Below, hear the 7-minute single 'Life Is Perfecto', and check out the album's cover art and tracklist.
"'Life Is Perfecto' is the first song I wrote for Memoryland, way back in 2015, after a viewing of Hou-Hsiao Hsien's iconic film Millennium Mambo," Silver explained in a statement. "It was the catalyzing inspiration for the album, and I wanted to do justice to its universal themes of alienation from one's own identity amid the turbulence of youth in a globalized metropolis on the cusp of the millennium."
Memoryland features appearances from Montreal outfit No Joy and Kero Kero Bonito frontwoman Sarah Bonito. Silver said of the album:
I was feeling fatigued by an overabundance of 'calming', productivity-oriented music, and wanted to explore something angsty, messy, and dark, while also applying a pop sheen. I see a loose narrative across the album: your early 20's, a new city, new people, new temptations and new traps. Losing your sense of self to the whims of your surroundings and trends in music and fashion; the wrong people, and trying to dig yourself out of that hole. There's a hope of moving forward that glimmers in the last quarter of the album, but it's out of reach and seems to come at a price. And then the looking back on it later with perspective; or the looking forward to it before with anticipation. As a kid I couldn't wait to be in my 20's; in my 30's it's bittersweet to look back. That's the core of memoryland: the gulf between the fantasy, the reality, and the memory, and how we live inside each of those at different points.
Memoryland Cover Artwork: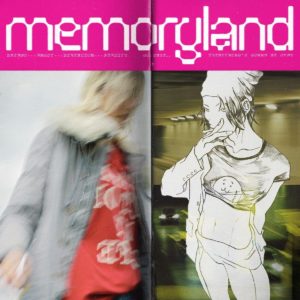 Memoryland Tracklist:
2. Life Is Perfecto
3. Nostalgic Body
4. Model Castings [ft. No Joy]
5. suburbilude
6. Punksong
7. Night/Day/Work/Home
8. Gravure Idol
9. i regret the jet-set
10. Self Service 1999
11. Slippery Plastic Euphoric
12. After the After
13. dirty
14. End-Curve of Forgetting
15. Heaven [ft. Sarah Bonito]
16. the ultraviolet room