Billie Eilish has officially announced her sophomore album: Happier Than Ever will arrive on July 30 (via Darkroom/Interscope). Along with the announcement, Eilish has also revealed that a new single will be coming out this Thursday, April 29. Check out her post as well as the album's cover artwork and full tracklist below.
"this is is my favorite thing i've ever created and i am so excited and nervous and EAGER for you to hear it," Eilish wrote on Instagram. "I can't even tell you. i've never felt so much love for a project than i do for this one. hope you feel what i feel."
Billie Eilish's debut album WHEN WE ALL FALL ASLEEP, WHERE DO WE GO? came out in March 2019. Since then, she's released the singles 'everything I wanted', 'No Time to Die', 'my future', 'Therefore I Am', and the Rosalía collaboration 'Lo Vas a Olvidar'. Happier Than Ever will only include 'my future' and 'Therefore I Am'. Yesterday, Eilish shared a 15-second clip in which she sings, "When I'm away from you/ I'm happier than ever."
Δείτε αυτή τη δημοσίευση στο Instagram.
Happier Than Ever Cover Artwork: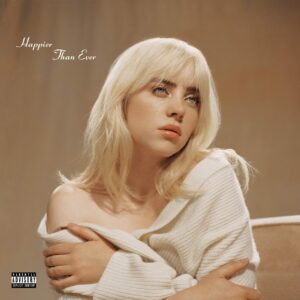 Happier Than Ever Tracklist:
1. Getting Older
2. I Didn't Change My Number
3. Billie Bossa Nova
4. my future
5. Oxytocin
6. GOLDWING
7. Lost Cause
8. Halley's Comet
9. Not My Responsibility
10. OverHeated
11. Everybody Dies
12. Your Power
13. NDA
14. Therefore I Am
15. Happier Than Ever
16. Male Fantasy