Berlin-based American producer and vocalist Lyra Pramuk has announced a remix album of 2020's Fountain. Set for release on September 24 via the Icelandic label Bedroom Community, the 14-song LP, titled Delta, will feature reworks by Hudson Mohawke, Ben Frost, Colin Self, Eris Drew, Caterina Barbieri, KMRU, TYGAPAW, Gabber Modus Operandi, Vessel, Kara-Lis Coverdale, Nailah Hunter, and more. Hear Vessel's 'Fountain (ars amatoria)' and check out the cover artwork and tracklist below.
In addition to releasing Delta, Pramuk has collaborated with Spitfire Audio to develop Siren Songs, a free plug-in for their LABS series made using playable samples from Fountain, which will work across DAWs in multiple formats.
The album artwork for Delta was created by Donna Huanca. Read about her cover for Fountain in our 50 Best Album Covers of 2020 feature.
Delta Cover Artwork: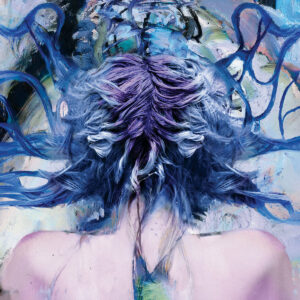 Delta Tracklist:
1. Offering [feat. Valgeir Sigurðsson]
2. Witness (Selfless Rework) [feat. Colin Self]
3. Constructs of Still [feat. KMRU]
4. Tendril (Midnight Peach Rework)
5. Returnless [feat. Kara-Lis Coverdale]
6. Tendril (Germinative Rework) [feat. Caterina Barbieri]
7. Fountain (ars amatoria) [feat. Vessel]
8. Sugarcube Revelations [feat. Eris Drew]
9. Everything Is Beautiful & Alive [feat. Eris Drew]
10. Cradle (Patience Rework) [feat. Ben Frost]
11. Kaca Bulan Baru [feat. Gabber Modus Operandi]
12. Gossip (Catalyst Rework) [feat. Heaven in Stereo]
13. New Moon (Distant Shores Rework) [feat. Nailah Hunter]
14. New Moon (In Pisces Rework) [feat. Tygapaw]