Macie Stewart, the composer, multi-instrumentalist, and songwriter best known as one half of the Chicago band Ohmme, has announced her debut solo album. It's titled Mouth Full of Glass and it arrives September 24 via Orindal. Lead single and album opener 'Finally' is out now alongside a Lia Kohl–directed music video. Check it out below and scroll down for the LP's cover artwork and tracklist.
"'Finally' came to me at a time when I really needed to be honest with myself and make some hard decisions in my life," Stewart explained in a statement. "It can be really easy to bury the truth down, but there will always come a time when it bubbles up to the surface. This song is meant to be a gentle urge to face yourself, and ultimately face the cumulative white lies we tell ourselves in order to get through all sorts of relationships. Writing this felt more like a discovery of lightness, rather than a dark absolute."
She added: "I felt so lucky to have one of my dearest friends and close collaborator Lia Kohl create a video for the song (she also plays cello on the recording). Lia's video perfectly captures that slow revelation, and helps it evolve into a personal and visual meditation."
Ohmme issued their most recent album, Fantasize Your Ghost, last year. Revisit out Artist Spotlight Q&A with Ohmme.
Mouth Full of Glass Cover Artwork: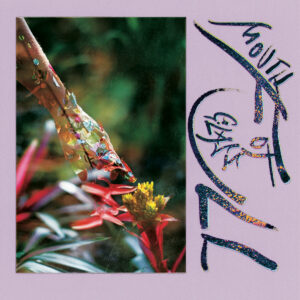 Mouth Full of Glass Tracklist:
1. Finally
2. Garter Snake
3. Mouthful of Glass
4. Golden (For Mark)
5. Where We Live
6. What Will I Do
7. Tone Pome
8. Wash It Away