Los Angeles-based harpist and composer Mary Lattimore has announced her second volume of unreleased rarities, Collected Pieces II, which is out October 29 via Ghostly International. Following 2017's Collected Pieces, the limited-edition cassette and digital release will include new and previously unreleased material, Bandcamp-only singles, and other obscurities from her catalog. Selections from both Collected Pieces will also make their vinyl debut in 2022. Today, Lattimore has released a video for the lead single 'We Wave From Our Boats', which you check out below.
The new track was improvised during the early days of lockdown in 2020, according to a press release. "I would just wave at neighbors I didn't know in a gesture of solidarity and it reminded me of how you're compelled to wave at people on the other boat when you're on a boat yourself, or on a bridge or something," Lattimore said. "The pull to wave feels very innate and natural."
Mary Lattimore released her most recent album, Silver Ladders, last year.
Collected Pieces II Cover Artwork: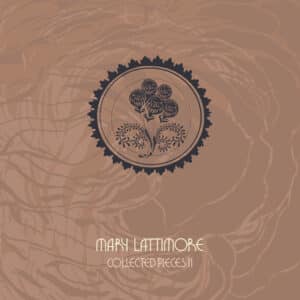 Collected Pieces II Tracklist:
1. Mary You Were Wrong
2. For Scott Kelly, Returned to Earth
3. Sleeping Deer
4. We Wave From Our Boats
5. Princess Nicotine
6. Be My Four Eyes
7. What the Living Do
8. Pine Trees (Home Recording)
9. Polly of the Circus