Cape Town songwriter M Field has announced his sophomore EP, Re: M Field. The follow-up to last September's M Field EP will be out on June 9 via Leafy Outlook. New single 'Block Universe' arrives with a music video directed by Jarred Figgins. Check it out below.
"Matt and I gravitate towards these seemingly mundane activities," Figgins said of the video in a statement. "Carrying a chair around London and using it to jump a wall seemed like a great day out. This simple task gives more room for the music to breathe, rather than being bombarded with too many themes or visuals. That, and sometimes we just need to take a load off."
The Re: M Field EP was produced by Ross Dorkin, Matthew Field's bandmate and longtime collaborator in the South African pop rock trio Beatenberg. 'Block Universe' is the second single from the project, following last month's 'Hyenas'.
Re: M Field EP Cover Artwork: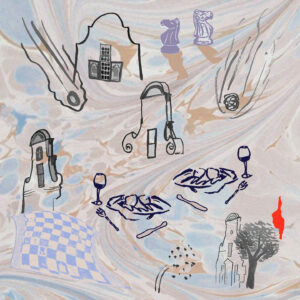 Re: M Field EP Tracklist:
1. Hyenas
2. Block Universe
3. A-B
4. Fire on Campus
5. Jolly Roger
6. House and Leisure