ELIO has announced her mixtape ELIO'S INFERNO with a new single called 'I LUV MY BRAIN!'. Out on August 5, the project will feature the previously released tracks 'Read The Room', 'Superimpose', 'Vitamins', and 'Typecast'. Listen to 'I LUV MY BRAIN!' below.
"'I LUV MY BRAIN!' was one of the first songs I wrote for the mixtape," ELIO explained in a press release. "It's a self love song about my brain and the way it works. It's about learning to appreciate my brain for all that it does and allows me to do while also acknowledging that it can be a bit difficult a lot of the time. I've had a constant battle with my thoughts and my feelings because they set me back in so many things but they also allow me to be creative in so many ways. I really wouldn't be where I am without it being the way that it is – sometimes that's a good thing and sometimes that's a bad thing, but I think I'm getting to the point of accepting it."
Having completed her first headline US tour, ELIO is set to embark on a support tour with Charli XCX across Europe later this month. Revisit our Artist Spotlight interview with ELIO.
ELIO'S INFERNO Cover Artwork: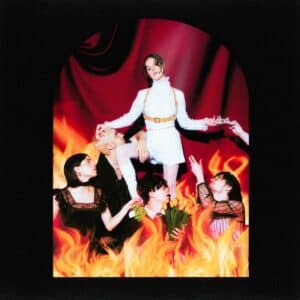 ELIO'S INFERNO Tracklist:
1. inferno
2. TYPECAST
3. new and improved
4. SUPERIMPOSE
5. 9 Lives
6. Vitamins
7. Read the Room
8. I LUV MY BRAIN!
9. Godly Behaviour
10. Off my chest