Alanis Morissette has announced her first meditation album, the storm before the calm, which will come out on June 17. Featuring 11 different meditations, the LP was co-written alongside Dave Harrington of Darkside. In addition to traditional digital plaforms, the album will be released on the mental health app Calm. Listen to first single 'safety—empath in paradise' below.
"Meditating rests my interior, to the point where I can have access to ideas and visions and inspirations – I can hear my own capital-S Self," Morissette said in a press release. "Music, for me, is like a portal in a way, an invitation into a state of being that I'm not normally in. Making the record kept me super connected and accountable during COVID, when I felt like I was just going to disappear and float away."
Morissette's last album was 2020's Such Pretty Forks in the Road. Earlier this year, she released a new song called 'Olive Brach'.
the storm before the calm Cover Artwork: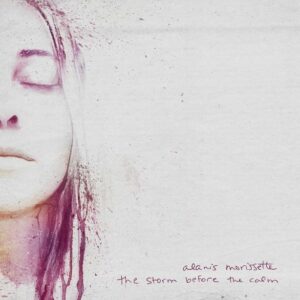 the storm before the calm Tracklist:
1. light—the lightworker's lament
2. heart—power of a soft heart
3. explore—the other side of stillness
4. space—pause on violence
5. purification—the alchemical crunch
6. restore—calling Generation X
7. awakening—in between thoughts
8. ground—I want to live.
9 safety—empath in paradise
10. mania—resting in the fire
11. vapor—amplified in stillness