If you've heard anything about the first weekend of Primavera Sound 2022, you know that things got off to a rocky start. Despite the unbelievably stacked lineup, there were complaints about the lack of water access and huge queues, not to mention the cancellation of several performances, most notably that of The Strokes, who are still set to headline later on Friday. (Clairo, PinkPantheress, and Holly Humberstone are among the artists who will no longer be performing this weekend, however, with Hurray for the Riff Raff taking Clairo's spot.) The situation seemed to have improved on the second and third days of the festival, or at least people came more prepared. Having camped out at the main stages for most of the night on Thursday, the only difference I noticed was the water bottles intermittently being thrown into the air. (Two of them happened to land on me, so your chances of not getting dehydrated aren't that low – though the sea of plastic left behind wasn't a nice image at the end of the night.) As for music, my day started with a lot of dry post-punk before turning more and more in the direction of pop. Here were six memorable moments from the first day of Weekend 2.
---
The Colour in Dry Cleaning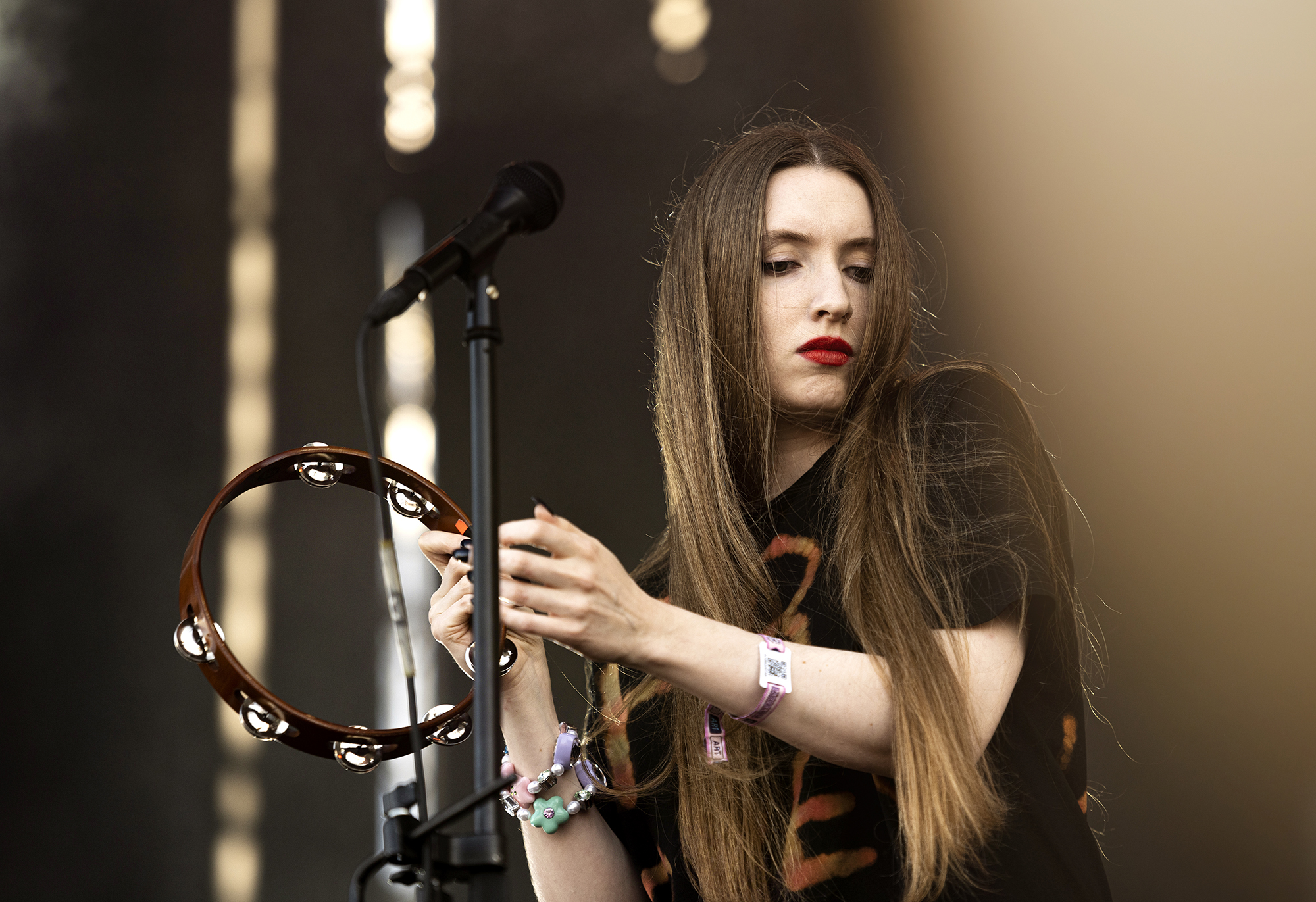 A couple of songs into Dry Cleaning's Thursday evening set at the Binance stage, the screen that zeroed in on Florence Shaw's near-static yet uniquely captivating performance turned black-and-white, as if to say: We get the vibe. Dry Cleaning may not be the darkest or most inventive of the recent wave of talky UK post-punk bands, but people certainly like to think of them as the talkiest. Their music stews in a way that requires patient listening, and Shaw's deadpan delivery and absurdly specific non-sequiturs aren't exactly easy to follow when the volume of the instruments threaten to drown out her hushed vocals – but that's not to say that the band sounds joyless in a live setting. If anything, their set was a reminder of the simplicity that belies their songs, as well as the dynamism that often makes them so thrilling. The bass, of course, did much of the heavy lifting, but it was Tom Dowse's guitar theatrics that stood out, his energetic performance contrasting that of Shaw, which was evocative in a much more elusive way. It was hard to discern a narrative out of the whole thing, but one couldn't imagine it any other way; if it left you feeling less curious and confused, would it really be a Dry Cleaning show?
Squid Face the Sunset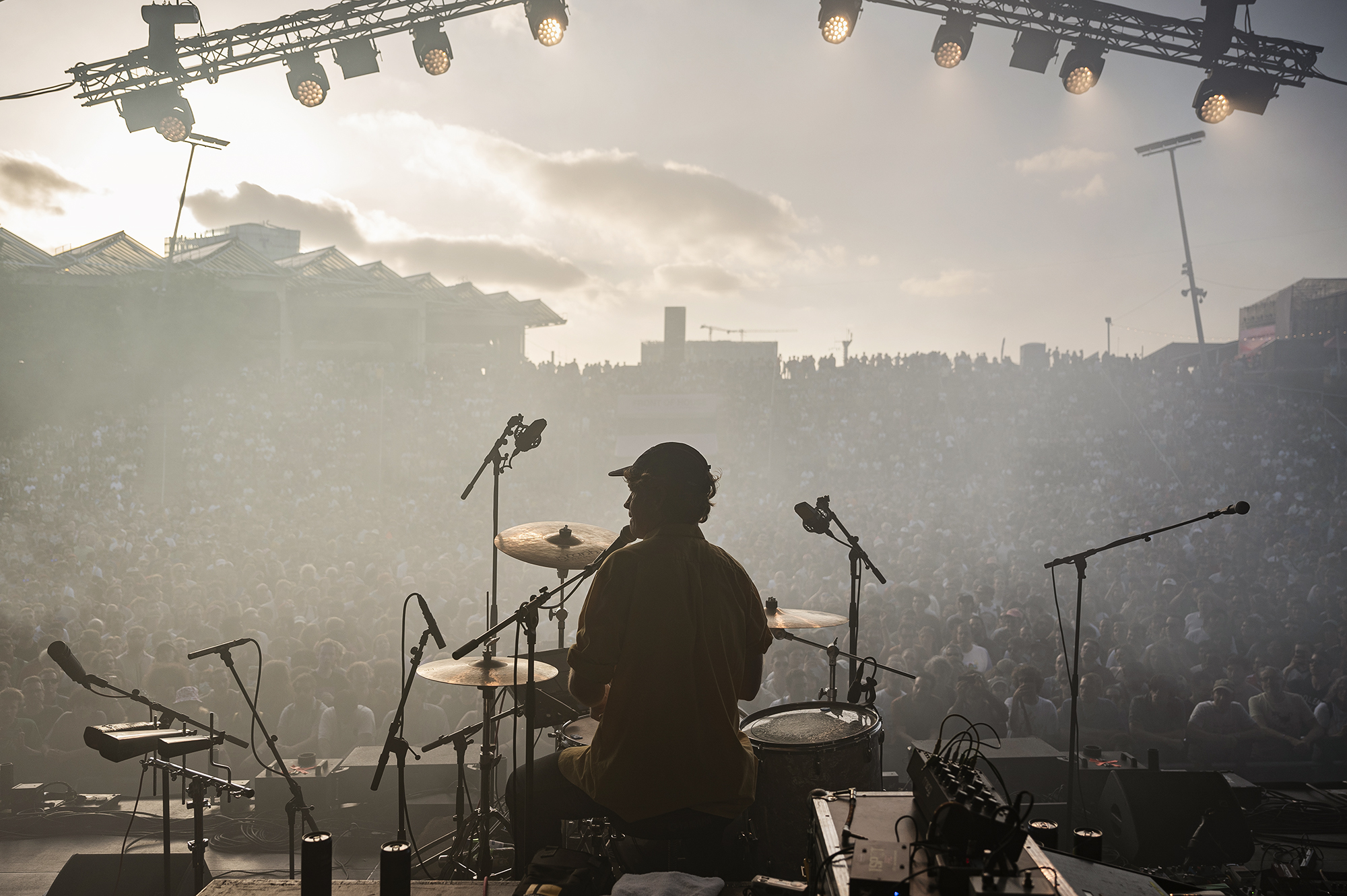 I assume bands don't have a lot of say in what stage they get to perform at a festival, but it must have been someone's decision to get Squid to play the Cupra stage just as the sun was about to set. (This is my attempt at not turning this into another spiel about post-punk, which was especially tempting after seeing Dry Cleaning and Squid back-to-back. Suffice to say, their performances couldn't have been more different, unless you want to compare them to the night's headliners.) Regardless, the timing was billiant. At the beginning of the set, the sun would still burn your eyes if you were to turn around as they rolled through some of their more chaotically driving tracks. The lines from 'Boy Racer' set the dystopian scene – "As the sun sets, on the Glaxo Klein/ Well it's the only way that I can tell the time" – and the synchronicity had a chilling effect. Showcasing their fusion of post-punk, krautrock, and jazz, the band oscillated between the simmering intensity of their more well-known tracks and dronier, more avant-garde passages that made their dynamic builds all the more invigorating. With drummer/vocalist Ollie Judge's unhinged performance at the helm, the band closed out with the blistering one-two-punch of 'Pamphlets' and 'Narrator', and their surroundings were irrelevant by that point – the stage was the only place you could lock your eyes at.
Remembering Interpol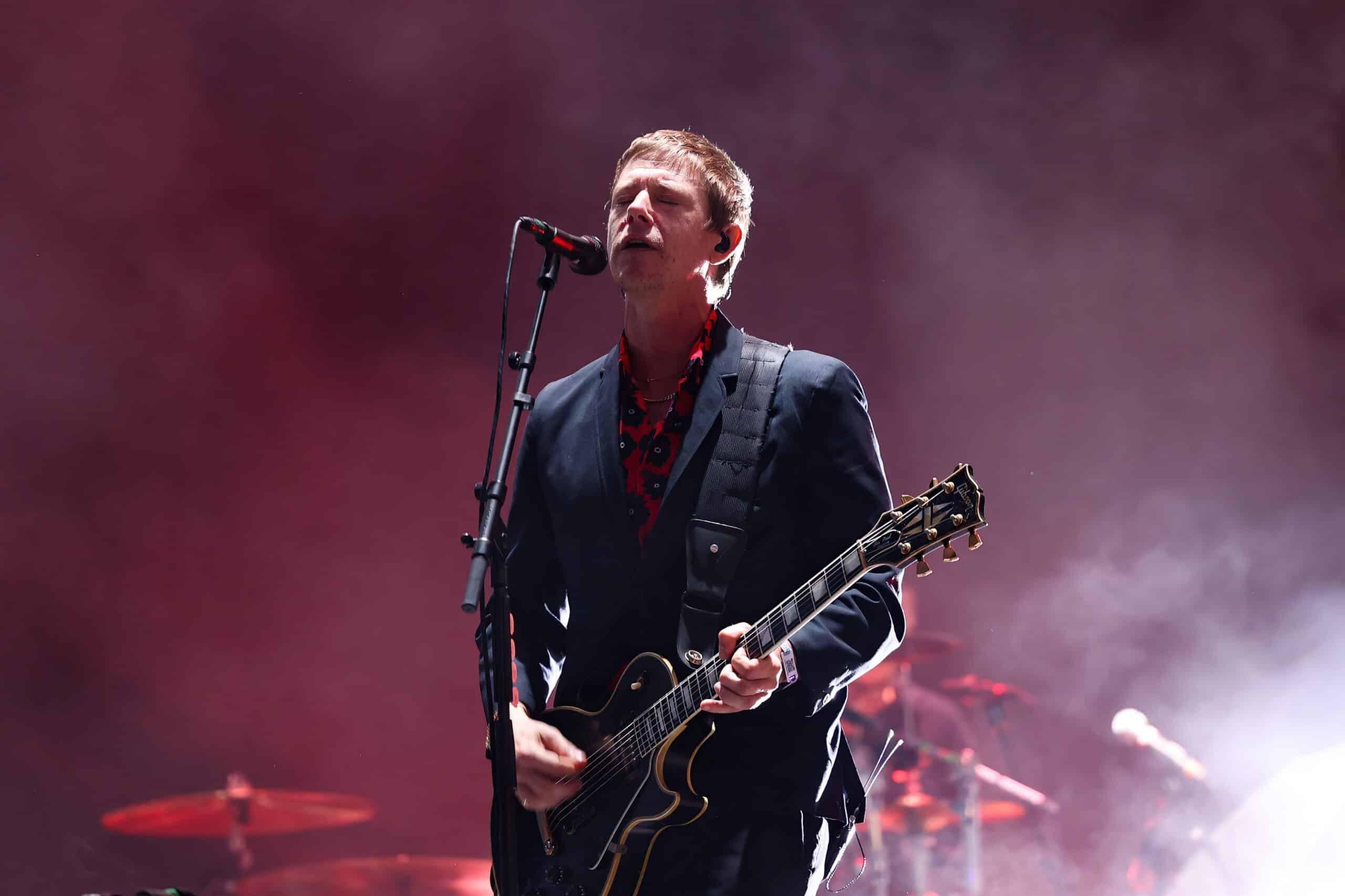 I don't have much of an emotional connection to Interpol's music, but I was hoping their melodic approach to post-punk would win me over to balance out the last two bands I saw. As someone who doesn't remember them at the peak of their popularity, I'm still not sure how a band like Interpol, whose aesthetic is so minimal and their music equally haunted and spare, could get quite so big. Seeing them play one of Primavera's main stages made me appreciate the cinematic sweep and ambition that clearly set them apart, but that's something I also enjoy whenever I put on Turn On the Bright Lights. It still didn't hit me; if anything, their professionalism detracted from the parts of their performance I found evocative, with the notable exception of 'Pioneer to the Falls'.
Yet it did help me understand the sentimental appeal their music holds, even if, for me, it's not tied to a particular era of indie. There are, of course, songs by them I recognize and have grown to like. But there are just two I love, and both have different memories attached to them. I'm one of those people who were introduced to 'PDA' through Rock Band 2, so I have a particular fondness for the song, even if the lyrics now only sound more absurd, even downright stupid. The other is 'Slow Hands', which I enjoy because it's catchy and doesn't make sense to me. So when those were the final songs in the band's set, and both old fans and casual fans like myself were singing along, it's not a moment I'll forget. It's not often that I get to be that guy.
Gorillaz's Feel-Good Set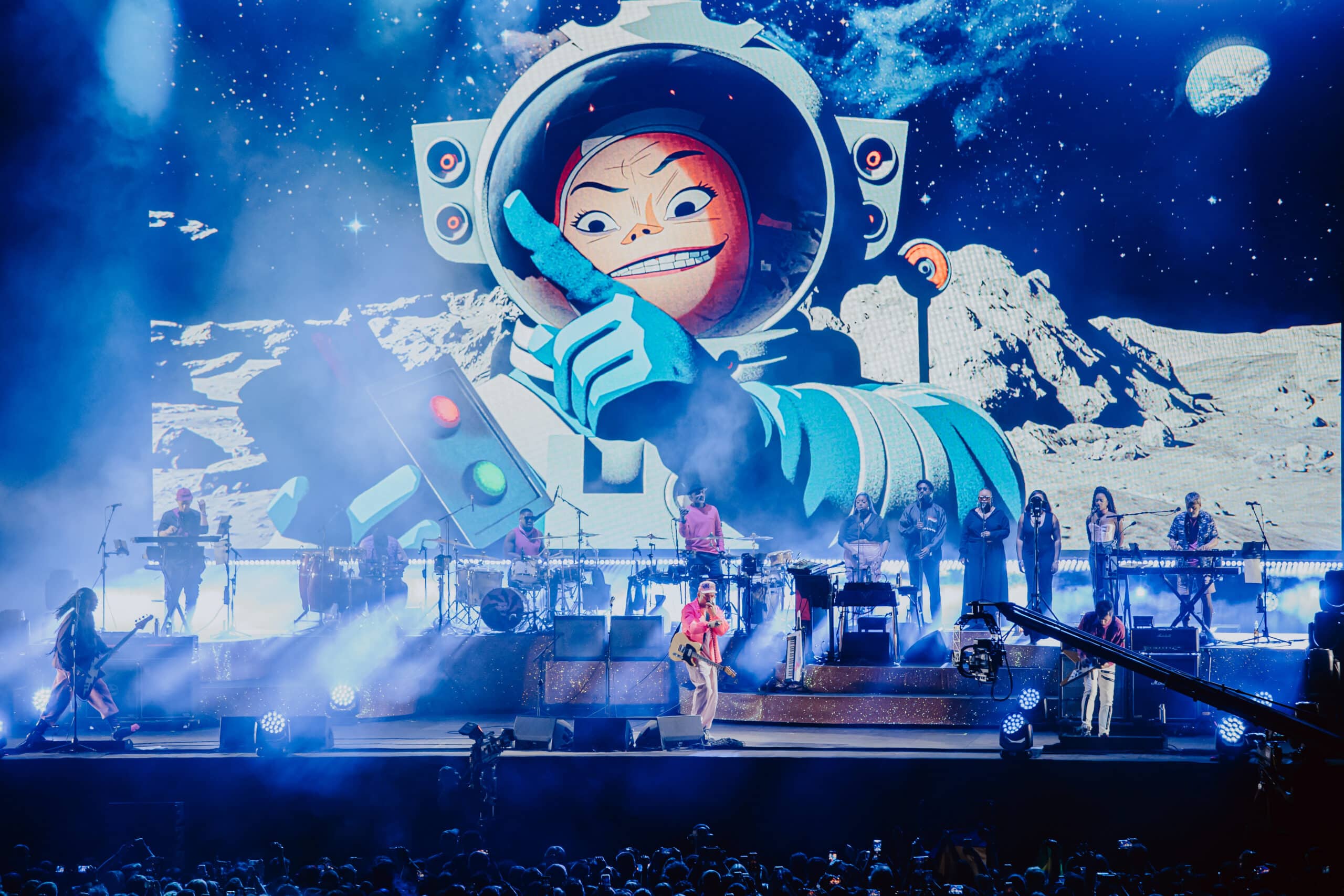 Gorillaz drew one of the biggest crowds last weekend at Primavera, and this Thursday night was probably just as crazy. Being there the second time, it wasn't hard to see why. The hits kept coming throughout the duration of their crowd-pleasing set – which was significantly longer than any other I saw that day – yet it didn't feel dependent on them. They were balanced out by newer songs as well as tracks that didn't turn into massive sing-alongs, but even those songs were so colourful and layered that they became a portal to the group's ever-expanding world. You didn't need to be amazed by Damon Albarn's vocal performance (I really wasn't) in order to get sucked in, not even during the first half that was focused around songs where he takes center stage. There were so many different factors at play – from the visual spectacle of the show itself to the crowd's reactions – that it was pretty overstimulating at all times. When guests started coming in later on, including Mos Def/Yassin Bey (who also made a cameo during Khruangbin's earlier set) as well as De La Soul, it couldn't be clearer that this was just one giant party. But whereas last week it must have been a euphoric note to close the weekend off, this time felt like only the beginning.
Dua Lipa's Future Nostalgia Shines Bright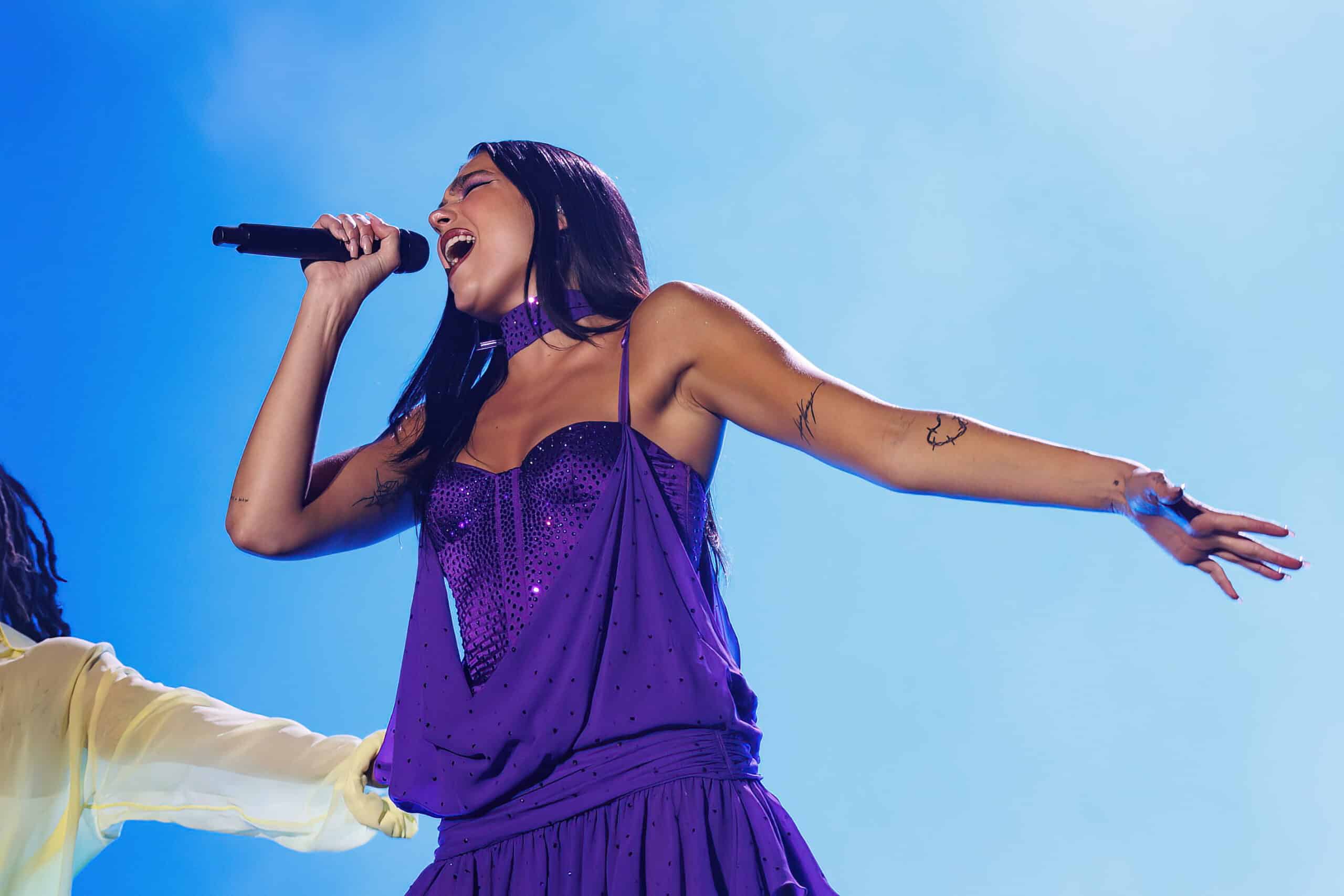 When Future Nostalgia became a pandemic hit, it was tied to a promise that couldn't yet be fulfilled. "I used to spend so many nights on my own/ I never knew I had it in me to dance any more," goes one notable line on 'Love Again', and I probably wasn't the only one who never thought they'd be dancing to the album's brilliant fusion of disco and contemporary pop with other people. At the Pull & Bear stage on Thursday, Dua Lipa herself admitted there was a time when putting on a show like that didn't feel like a possibility, which of course meant that it had to be even more extravagant and euphoric. Having already toured the album across the world, the pop star and her crew of dancers quickly turned the show into a non-stop dance party that served as a loving (and knowing) tribute to pop's past with a hint of where it might be headed.
Despite all the excitement, I had doubts as to whether Dua Lipa would have enough material to fill a headlining set, even though Future Nostalgia plays like a greatest hits collection. I'd almost forgotten she had huge hits from her first album (don't blame me – even her latest album seems like a century ago), all of which became big sing-alongs. If those songs didn't make a fan out of you at the time, the way Lipa injected them with the commanding presence that defines Future Nostalgia was more than enough to keep the whole show infectious. She also showcased more recent singles like 'Fever', her duet with Belgian singer Angèle, who made a rare onstage appearance, as well the 'Cold Heart' remix; if you're not a fan of the latter one, either, it was still rousing to hear a crowd of young fans singing the lyrics to Elton John's 'Rocket Man' while Lipa held up a rainbow flag.
Compared to other pop singers who took the stage at Primavera and operate at the edges of the mainstream – Charli XCX, Rina Sawayma, Caroline Polachek – you might think Lipa's music has the least amount of personality, but her show, which wasn't without surprises, proved otherwise. After all, how many pop stars would pick out a member from the audience and dedicate a song to them before delivering the lines, "We don't know how to talk/ But damn, we know how to fuck"? She also made the bold decision of extending 'Boys Will Be Boys', an anthem about male violence ("…but girls will be women") and transforming it into another dance track that included an interpolation of 'Hollaback Girl'. It could have easily fallen flat, but like everything else about Lipa's performance, it felt like a long-overdue celebration.
Tyler, the Creator Howls Into the Night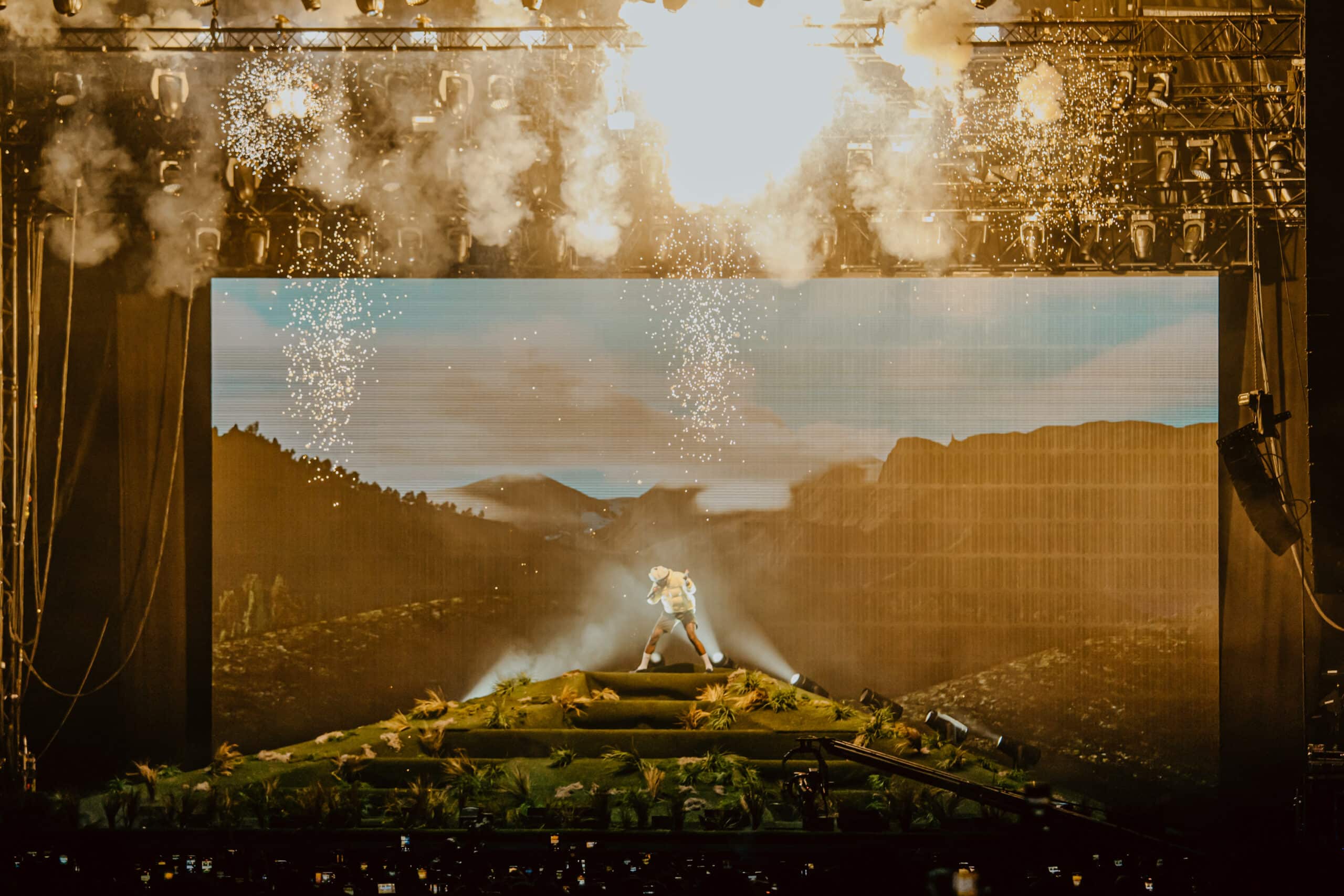 When you go see Tyler, the Creator, you expect to have a wild time. Few rappers have a catalog as enviable as Tyler's, and at this point, his show is made for arenas. But even if the stage design was more pared back than it might have been in a non-festival setting, transporting us somewhere far out in the woods, it was still one of the most spectacular and insane shows I've ever seen. As soon as he charged into the hard-hitting 'Sir Baudelaire' with pyrotechnics erupting onstage, you could feel the heat – and it wasn't long before it was actual flames that rose up from the floor. Throughout, Tyler balanced the constant intensity with a rawness that was just as gripping. As he served up highlights from Flower Boy, IGOR, and Call Me If You Get Lost, as well as some of early fan favorites, his flow careened from unhinged to precise, his energy vulnerable and chaotic. Whatever character he embodied, the audience responded with the kind of fervour you wouldn't expect that late into the night, from the tender 'See You Again' to rousing sing-alongs like 'EARFQUAKE' and 'I THOUGHT YOU WANTED TO DANCE' that came towards the very end of the show. The connection was palpable, and Tyler embraced it as much as he kept pushing it to another level.