After returning with the song 'coyote (2019-2022)' earlier this year, Teen Suicide has announced a new album titled honeybee table at the butterfly feast. It comes out August 26 via Run For Cover Records. Listen to the new single 'get high, breathe underwater (#3)' below, and scroll down for the album cover and full tracklist.
Sam Ray wrote the new LP over a period of several years while he struggled with a respiratory illness that made it very difficult to perform and record, eventually leading to a near-death experience. "I had to begin prioritizing the increasingly rarer and shorter periods where I felt able to still sing–despite being at such a lower o2 sat than I should, and thus a much lower lung capacity," he explained. "It took a toll on everything for me, not just productivity, but writing too, as singing is such a big part of the writing process for me."
He continued:
This led to a kind of bottleneck, where I had increasingly smaller windows where I could work normally, and I had a deeper and deeper reserve of ideas to pull from. I had to be judicious, only choosing songs I felt were my best, and which best represented me as an artist, because by this point I was looking at it as my last album. Whether I died from the illness or was just unable to ever sing and work like I had before, I wanted to get everything done that I possibly could, and yet I became almost completely unable to function. This led to an at times almost hopeless depression and yet also an incredible desire to push through and work harder than I ever have. And in that conflict I found a lot of the material for the record.
honeybee table at the butterfly feast Cover Artwork: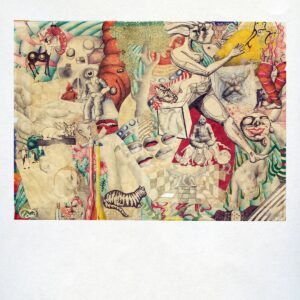 honeybee table at the butterfly feast Tracklist:
1. you were my star
2. death wish
3. get high, breathe underwater (3#)
4. unwanted houseguest
5. groceries
6. i will always be in love with you
7. new strategies for telemarketing through precognitive dreams
8. violence violence
9. coyote (2015-2021)
10. every time i hear your name called
11. you can't blame me
12. it was probably nothing but for a moment there I lost all sense of feeling
13. all of us steady dying
14. complaining in dreams
15. how to disappear in america without a trace
16. another life (bootleg)