London-based jazz composer Sarathy Korwar has announced his next album. KALAK, the follow-up to 2019's More Arriving, comes out November 11 via the Leaf Label. To celebrate the news, Korwar has shared a new single, 'Utopia Is A Colonial Project', which arrives with an Elliott Gonzo-directed visual starring choreographer and dancer Botis Seva. Check it out and find the album cover (by Sijya Gupta and Fabrice Bourgelle) and tracklist below.
"Utopia can be seen as a diagram for colonisation," Korwar explained in a press release. "Ideas of utopia are intrinsically linked to the mindset of settler colonialism. It comes from seeing the natural world as an inanimate resource rather than a living, sentient being. We need to be antiutopian, and anti-dystopian. We need to be able to imagine futures drastically different to the kind of 'utopias' that are being sold by right-wing populist politicians in South Asia and beyond."
Recorded at Real World Studios with producer Photay, KALAK features The Comet Is Coming's Danalogue on synths, Tamar Osborn's baritone sax, Al MacSween on keys, and percussionist Magnus Mehta, as well as vocals by Melt Yourself Down's Kushal Gaya of Melt Yourself Down and Mumbai-based producer Noni-Mouse. Korwar elaborated on the ideas behind the record:
The discourse around futurism is often deeply rooted in Eurocentric ideas of the world. Much like Afro-futurism, Indo-futurism is moving the focus to the global south. In South Asia, culturally, we envisage our relationship to the future and the past in ideas of cyclicality. For example, karma as a concept. Time doesn't have to flow in a line but can be understood to flow in a circle.
In music, there's an inherent hierarchy when you talk about left to right and top to bottom. I started thinking about a rhythmic notation system that was circular. These patterns started forming over time, and the more I thought about that, and the kind of symbolism that they began to have, I realised that this would be the core of the record.
KALA Cover Artwork: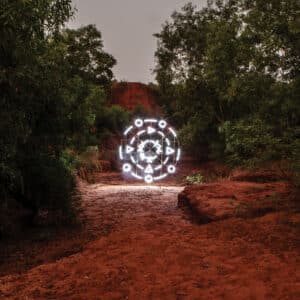 KALA Tracklist:
1. A Recipe To Cure Historical Amnesia
2. To Remember [feat. Kushal Gaya]
3. Utopia Is A Colonial Project
4. Back In The Day, Things Were Not Always Simpler [feat. Noni-Mouse]
5. The Past Is Not Only Behind Us, But Ahead Of Us
6. Kal Means Yesterday And Tomorrow
7. Remember Begum Rokheya
8. That Clocks Don't Tell But Make Time [feat. Kodo]
9. Remember Circles Are Better Than Lines
10. Remember To Look Out For The Signs
11. KALAK – A Means To An Unend