Field Guide, the project of Canadian songwriter Dylan MacDonald, has announced his self-titled second LP with a video for the new song 'Leave You Lonely'. Field Guide arrives October 28 via Birthday Cake Records. Check out 'Leave You Lonely' below.
In a press release, MacDonald explained that the new track is "about devotion. It's about fighting complacency. Having doubts is human, but swallowing those feelings can often lead us into a haze of disconnection. It's rare to hold only one feeling at a time and I've been learning to embrace the myriad of emotions that come with being alive, and in love. This song represents a beautiful and imperfect love, the recording is the same — no editing, a one take (and sometimes out of tune) vocal."
"Melody is what makes words fall out of my mouth, it's disarming," he added. "When I find a melody that represents my internal world, I drop my guard. I allow the words to appear out of thin air without judgement. A lot of these songs came to life that way. I wasn't trying to make anything, but the songs became a home for words that I wasn't yet ready to write on the page."
MacDonald recorded Field Guide with Kris Ulrich in a woodstove-heated cabin near Riding Mountain National Park during one of the coldest Canadian winters on record. "Recording there was inspiring, there was something about that harsh environment, it felt significant," MacDonald recalled. "Kris and I would record all day, and late into the evening and then play M. Ward's Migration Stories on repeat while we cooked dinner, drank whiskey, and smoked."
Field Guide's last album was 2019's Make Peace with That.
Field Guide Cover Artwork: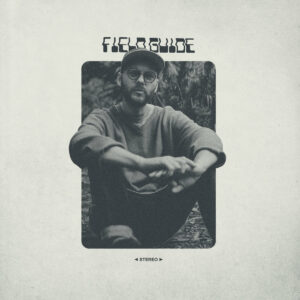 Field Guide Tracklist:
1. Leave You Lonely
2. Remember When
3. You Could Be Free
4. In Love Now
5. For Sure
6. Cracked Open
7. Worst Of Ways
8. Wishing Well
9. Goddess
10. You Carry Me
11. Looking Back
12. Tupperware (Reimagined)