Gorillaz have announced a brand new album: Cracker Island is out February 24 via Parlophone. The record will include the previously shared title track (featuring Thundercat), as well as a new song called 'New Gold', a collaboration with Tame Impala and Bootie Brown. Check it out below and scroll down for the album artwork and tracklist.
"Cracker Island is the sound of change and the chorus of the collective," guitarist Noodle said of the new album. Russel Hobbs added, "When the reckoning comes, gotta be ready to step through the gateway. Cracker Island's got the entry codes…"
"The path to Cracker Island isn't easy to find 'cos it's underwater," 2D remarked. And Murdoc Niccals commented: "The hallowed tones of Cracker Island will soundtrack our collective ascension into the new dimension! JOIN ME!"
Cracker Island, Gorillaz's eighth studio LP,  also features guest appearances from Stevie Nicks, Adeleye Omotayo, Bad Bunny, and Beck. It was recorded in London and LA earlier this year with producers Greg Kurstin and Remi Kabaka Jr.
Gorillaz are in the midst of a world tour that kicked off in South America earlier in the year and included a stop at Primavera Sound. A run of shows North American shows will follow in September and October, starting in Vancouver on September 11.
Cracker Island Cover Artwork: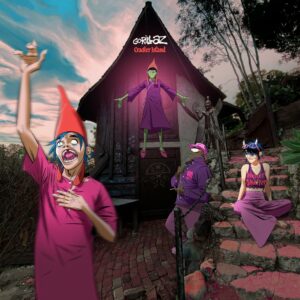 Cracker Island Tracklist:
1. Cracker Island [feat. Thundercat]
2. Oil [feat. Stevie Nicks]
3. The Tired Influencer
4. Tarantula
5. Silent Running [feat. Adeleye Omotayo]
6. New Gold [feat. Tame Impala and Bootie Brown]
7. Baby Queen
8. Tormenta [feat. Bad Bunny]
9. Skinny Ape
10. Possession Island [feat. Beck]