London slowcore band deathcrash have announced a new album called Less, which arrives on March 17 via untitled (recs). Following last year's Return, the LP was recorded "at the UK's most remote studio in the Outer Hebrides," according to a press release. It's led by the single 'Empty Heavy', which comes with an accompanying video filmed in collaboration with co-directors Kaye Song and Joe Taylor. Watch and listen below.
"'Empty heavy' is an intricately melancholic song that gives way to a direct and explosive ending," bassist Patrick Fitzgerald explained in a statement. "This is reflected by the different states of loss portrayed lyrically through the song."
"When we filmed the video for this, there was a similar atmosphere," he continued. "We had been working so intensely on the album that we'd barely even left the confines of the studio since we had arrived. Every day we spent a lot of time carefully crafting, whether it was Kaye's artwork or our music. For the video we got to step out of the studio, set it all on fire and just watch it burn together. It was a release for all of us, and brought us closer together. Like the ending of the song here is something powerfully satisfying in giving up and letting go, even if just for a moment."
Joe Taylor added: "We had always planned to burn Kaye's sculpture, for it to become and effigy of the record and the time we spent on Lewis. After spending the best part of two weeks carrying it across bogs, lochs and moors whilst shooting it for the album cover, the storm that had been raging for three days finally subsided, and so we decided that evening would be the night."
Introducing the new album, deathcrash singer Tiernan Banks said: "The mission statement was to be super minimal. Just simple and beautiful guitar parts and to be really bare. To be… less."
Check out our Artist Spotlight interview with deathcrash.
Less Cover Artwork: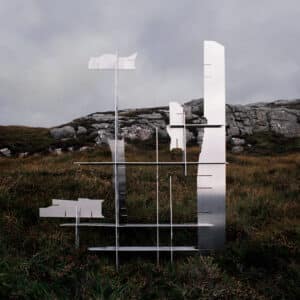 Less Tracklist:
1. Pirouette
2. Empty Heavy
3. Duffy's
4. And Now I Am Lit
5. Distance Song
6. Turn
7. Dead, Crashed