In this segment, we showcase the most notable albums out each week. Here are the albums out on January 27, 2023:
---
Sam Smith, Gloria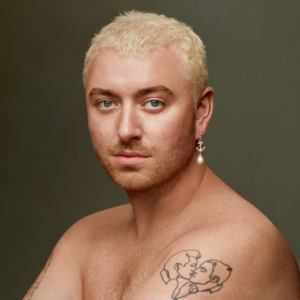 Gloria, Sam Smith's fourth studio album, has arrived. Featuring the singles 'Love Me More', 'Unholy', and 'Gimme', the LP was recorded between Los Angeles, London, and Jamaica. In a statement, Smith said the follow-up to 2020's Love Goes "feels like a coming of age," adding: "I'm feeling overwhelmed and emotional as I start to let go of Gloria and hand this work over to you. It has been magical in every way to make this piece of music, and by giving this record to you, I am giving you part of my heart and soul. Gloria got me through some dark times and was a beacon for me in my life. I hope it can be that for you."
---
Fucked Up, One Day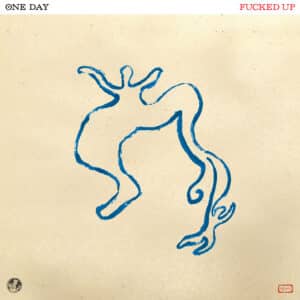 Fucked Up are back with a new album. One Day, the band's shortest full-length to date, was literally written and recorded within 24 hours. "After you've been in a band for this long, you lose track of what your sound actually is," guitarist Mike Haliechuk said in press materials. "Twenty-four hours can feel like a long time, but you can get a lot done then, too. It can feel like forever and one minute at the same time. If you work on something for one day, it can end up being really special." Vocalist Damian Abraham, who contributed lyrics for the first time since 2014's Glass Boys, added: "It almost felt like it might be the last time I'd ever get to record vocals for anything. What do I want to say to friends who aren't here anymore? What do I want to say to myself?" Read our review of One Day.
---
Samia, Honey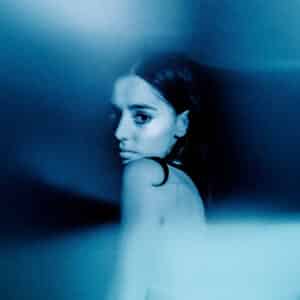 Samia has come through with her sophomore album, Honey, via Grand Jury. The follow-up to the Nashville-via-NYC songwriter's 2020 debut The Baby was produced by Caleb Wright and recorded at Betty's, the North Carolina studio owned by Sylvan Esso. "This record is about learning to see the love around you," Samia said in a statement. "Sometimes the only thing I can be certain of is the way it feels. Even when I zoom all the way out, the little things matter the most. I was trying to imagine looking back at the end of life and what I'd have to say about it right now. This is a little bit of it. Telling stories, making amends, trying to show people I love them. It's a community record – I made it with Caleb Wright and our friends in the woods in North Carolina."
---
Meg Baird, Furling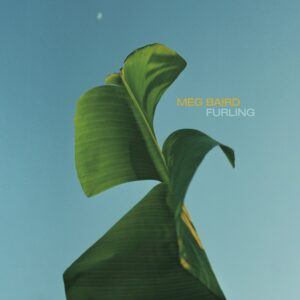 Meg Baird has returned with her first solo album since 2015's Don't Weigh Down the Light. Out now via Drag City, Furling was previewed with the singles 'Will You Follow Me Home?', 'Star Hill Song', and 'Ashes, Ashes'. The album was performed by Baird and her longtime collaborator, partner, and Heron Oblivion bandmate Charlie Saufley, and primarily recorded at Louder Studios by Tim Green. Discussing the album's themes, the singer-songwriter told Aquarium Drunkard: "Domesticity was coming up a lot. Celebrating but also yearning for home. But definitely a lot of celebration of it. There are goodbyes and more exploring senses of foreboding and exploration. That outward, looking out over the horizon, feeling kind of dwarfed by it but also just looking out."
---
H.C. McEntire, Every Acre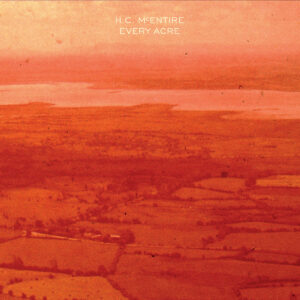 H.C. McEntire has released her third solo album, Every Acre, via Merge Records. The Durham, North Carolina singer-songwriter co-produced the Eno Axis follow-up with Missy Thangs and Luke Norton, while S.G. Goodman and Amy Ray contributed backing vocals. "With the pandemic, I was at home a lot, and Eno Axis is kind of me observing that landscape, writing about what I'm seeing and really committing to that," McEntire explained in our Artist Spotlight interview. "I think Every Acre is more how I fit into it, or my relationship with the land and what it has taught me in a spiritual and metaphysical way. I don't know how this sounds, but I feel like the land, it has an energy, just like houses have energies. And I took the time to communicate with that and open myself up to maybe what the land was trying to tell me. It taught me a lot about myself and my own healing processes."
---
Gena Rose Bruce, Deep Is the Way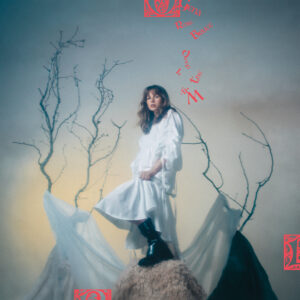 Deep Is the Way is the sophomore album by Melbourne-based songwriter Gena Rose Bruce, following 2019's Can't Make You Love Me. Out today via Dot Dash/Remote Control, the album finds her reuniting with producer Tim Harvey and includes collaborations with Bill Callahan, who appears on the previously released title track. In a press release, Bruce called the song "a dedication for those people who may be slower in finding themselves, who like to dream, think deeply and take their time to make decisions, for them to appreciate and honour their thoughtful process. Not everyone has to keep up with this unachievably fast and competitive world."
---
White Reaper, Asking for a Ride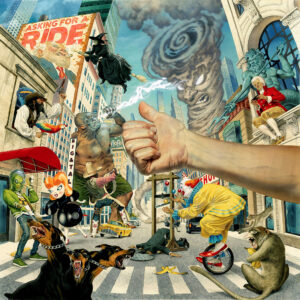 White Reaper have dropped their latest album, Asking for a Ride, via Elektra Entertainment. The follow-up to 2019's You Deserve Love was recorded and largely self-produced with engineer Jeremy Ferguson at his in Nashville studio. "We ask ourselves: 'Does it sound good when we play it in the room together?' And if it does, those are the songs we want to pursue," guitarist/vocalist Tony Esposito said in a statement. "We started to recognize how we operate best as a band," guitarist Hunter Thompson added. The singles 'Pages', 'Fog Machine', and 'Pink Slip' preceded the LP.
---
The Arcs, Electrophonic Chronic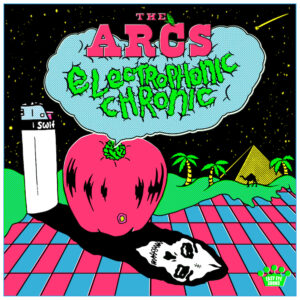 Dan Auerbach's band the Arcs are back with Electrophonic Chronic, their first album in eight years. The Yours, Dreamily follow-up features the group's original lineup of Auerbach, Leon Michels, Nick Movshon, Homer Steinweiss, and the late Richard Swift. Auerbach and Michels co-produced the LP, which was mostly recorded prior to Richard's passing in 2018. "This new record is all about honoring Swift," Auerbach said. "It's a way for us to say goodbye to him, by revisiting him playing and laughing, singing. It was heavy at times, but I think it was really helpful to do it." He added: "It's rare that you meet a group of people that you click with like that, who you instantly bond with. We were just having fun, making sounds, making music. It was an amazing time for me."
---
King Tuff, Smalltown Stardust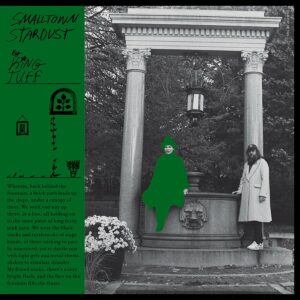 King Tuff, aka Kyle Thomas, has followed up 2018's The Other with a new album called Smalltown Stardust, out now via Sub Pop. The LP was co-produced and largely co-written with SASAMI and includes the previously unveiled singles 'Portrait of God', 'Tell Me', and the title track. Thomas described Smalltown Stardust as "an album about love and nature and youth," saying of the title song: "It's a portal that I can access when I need inspiration, or when the city feels too big and hot and I need to mentally escape into some dark woods. It's a place I found myself going to often in the last few years while I was writing this record, stuck in scorched and crispy ol' Los Angeles, so it felt fitting as an album title as well as the first song to release into the world."
---
Complete Mountain Almanac, Complete Mountain Almanac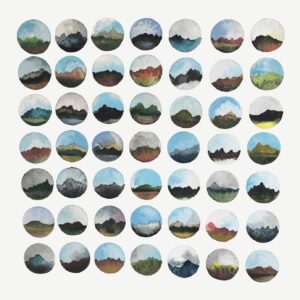 Complete Mountain Almanac – the collaborative project of Norwegian musician Rebekka Karijord and poet, dancer, and multimedia artist Jessica Dessner – have issued their self-titled debut album, which features contributions from Jessica's twin brothers, Aaron and Bryce Dessner of the National. The original idea for the project was to write an album about climate change in 12 suites representing the 12 months of the year. After Karijord reached out to Jessica Dessner to craft the visual component of the album, however, Jessica was diagnosed with breast cancer, which inspired a poetry collection titled Complete Mountain Almanac that ended up serving as the lyrical foundation for the project.
---
Other albums out today:
Jonah Yano, portrait of a dog; Lil Yachty, Let's Start Here; Crosslegged, Another Blue; Sara Noelle, Do I Have To Feel Everything; R. Ring, War Poems, We Rested; Sightless Pit, Lockstep Bloodwar; Florry, SWEET GUITAR SOLOS; Sweet Baboo, The Wreckage; Ava Max, Diamonds & Dancefloors; The Tubs, Dead Meat; Kimbra, A Reckoning; Popcaan, Great Is He; Hotel Lux, Hands Across the Creek; Ruhail Qaisar, Fatima; Glosser, Downer; Hammock, Love in the Void; JW Francis, Dream House; Steve Vai, Vai/Gash; Gareth Quinn Redmond, Umcheol.