Unknown Mortal Orchestra have shared the details of their next album: V comes out on March 17 via Jagjaguwar. They've also released a new song from it, 'Layla', alongside an accompanying video directed by Vira-Lata. Check it out below.
UMO band leader Ruban Nielson cites West Coast AOR, classic hits, weirdo pop, and Hawaiian Hapa-haole music as inspirations for the new album, which was constructed in Palm Springs, California and Hilo, Hawaii. He worked on V with his brother, Kody, as well as his father, Chris Nielson (saxophone/flute), and longtime Unknown Mortal Orchestra member Jacob Portrait. During the early days of the pandemic, Kody flew from New Zealand to Palm Springs to help Ruban with his songs, but Ruban had to travel to Hawaii to help care for a family member. After reuniting at a cousin's wedding Hawaii, the brothers then returned to Palm Springs to finish the record.
"In Hawaii, everything shifted off of me and my music," Nielson explained in a statement. "Suddenly, I was spending more time figuring out what others need and what my role is within my family. I also learned that things I thought were true of myself are bigger than I thought. My way of making mischief – that's not just me – that's my whole Polynesian side. I thought I was walking away from music to focus on family, but the two ended up connecting."
V, which includes the early single 'I Killed Captain Cook', follows the 2018 records Sex & Food and IC-01 Hanoi.
V Cover Artwork: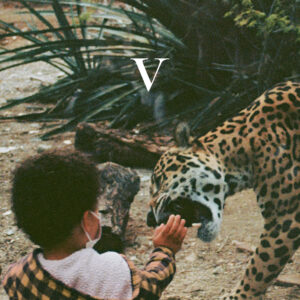 V Tracklist:
1. The Garden
2. Guilty Pleasures
3. Meshuggah
4. The Widow
5. In The Rear View
6. That Life
7. Layla
8. Shin Ramyun
9. Weekend Run
10. The Beach
11. Nadja
12. Keaukaha
13. I Killed Captain Cook
14. Drag