Lucinda Williams has announced her next album, Stories from a Rock n Roll Heart. It's due out June 30 (via Highway 20 Records/Thirty Tigers), and the first single, 'New York Comeback', features Patti Scialfa and Bruce Springsteen on backing vocals. Williams co-wrote the song with her husband, Tom Overby, and Jesse Malin. Listen to it and find the album cover and tracklist below.
Stories from a Rock n Roll Heart was produced by Williams, Overby, and Ray Kennedy, who also engineered the record. Angel Olsen, Margo Price, Jeremy Ivey, Jesse Malin, Buddy Miller, and Tommy Stinson also provided backing vocals.
On April 25, Williams will release her memoir Don't Tell Anybody The Secrets I Told You. Her last album, Good Souls Better Angels, arrived in 2020. In November of that year, Williams suffered a stroke that partially impaired the left side of her body.
Stories from a Rock n Roll Heart Cover Artwork: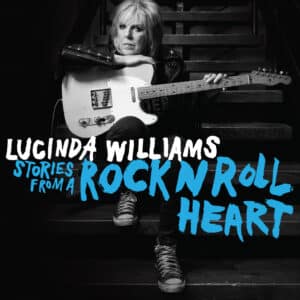 Stories from a Rock n Roll Heart Tracklist:
1. Let's Get The Band Back Together
2. New York Comeback
3. Last Call For The Truth
4. Jukebox
5. Stolen Moments
6. Rock N Roll Heart
7. This Is Not My Town
8. Hum's Liquor
9. Where The Song Will Find Me
10. Never Gonna Fade Away