The weather forecast was not looking good on the last day of Primavera Sound Barcelona – there was a 100% chance of precipitation when I got to the Parc del Fórum – but in the end, a light drizzle did nothing to dampen the enthusiasm that had been building all week. It would be a shame, after so much great music, to have to miss performances by artists who have put out the best rock and pop albums of 2023 so far – Wednesday and Caroline Polachek, respectively – not to mention Rosalía's eagerly anticipated headlining set. But everything went down as planned, all the way until the ecstatic late-night sets by Two Shell and Overmono (which, in a tough clash for electronic music fans, unfortunately overlapped, though both were palpably refreshing just hours after Calvin Harris took the main stage). Here, in chronological order, are five highlights from the night.
---
Wednesday Killing the Heat
Saturday was actually the chilliest, cloudiest day of the festival – a few drops of rain even came down right before Wednesday's early evening set – so unless there's proof they literally killed the heat for the sake of their uproarious music, that heading is admittedly misleading. I just wanted to make that reference. The show itself, however, was definitely killer. (Fine, I'll stop now.) While their half-remembered visions of North Carolina suburbia might not resonate in the same way across the pond, the Asheville five-piece attracted what was their biggest crowd yet, "by a lot," Karly Hartzman pointed out, a fact that gave their raucous performance a sort of delightful twist. I wondered what people who'd flocked over from virtuosic jazz duo DOMi & JD Beck's set might have made of the band's grimy, gothish, gut-wrenching guitar music, but I can't imagine anyone witnessing a performance this loud and emotional and not getting their feelings stirred up.
In between songs, Hartzman drew attention to individual members of the audience – recognizing a couple that had once cooked them a "delicious meal," complimenting a guy on his button-down My Bloody Valentine shirt, wondering if the person who walked up to her after the Unwound show that emotionally wrecked her the previous night was among them. "I just can't help but make observations," she said, fittingly, before launching into the Rat Saw God track 'Quarry'. But her final remarks were more serious. I doubt any act who played the festival had the guts to say "Fuck Jeff Bezos" while up there on the Amazon Music stage – all this was being livestreamed on their freaking platform, mind you – but that's exactly what Hartzman did, even dedicating the set-closing 'Bull Believer' to exploited Amazon workers. Let's just say her shrieks of "Finish him!" took on a whole new resonance.
Arlo Parks Makes Us Feel Less Alone
In her first appearance at Primavera, Arlo Parks gave a performance that was at once tender and dynamic – an opportunity to showcase her music's resonance in front of a large group of strangers rather than having to adapt to a festival setting. There was a comforting ease to her delivery that never undermined just the emotional weight of her songs, and the singer-songwriter took the opportunity to actually lean into it. She struck a good balance between new songs and older ones, which sounded a little more refreshing: 'Caroline' and 'Hurt' were punchier but just as evocative, while 'Sophie' was delivered "with a twist" – an explosive conclusion. Before 'Black Dog', Parks made clear her goal was for everyone going through a hard time to feel less alone, and the warmth of her message was palpable.
St. Vincent Esta En Casa
This isn't another case of me trying to be creative with these headings: St. Vincent actually said "Papi esta en casa" among many other things in Spanish during her dazzling set at the Santander stage. If the rollout for Daddy's Home left you more baffled than excited, it's worth noting that Annie Clark only hinted at the narrative behind the record rather than building the entire performance around it. And even if you're not the biggest fan of the music on the record, you would and should not pass up the chance to see such a singular performer, one whose vision feels both razor-sharp and wild. She performed the best songs from Daddy's Home, including 'Down', 'Pay Your Way in Pain', and 'The Melting of the Sun', along with highlights from her back catalog – the ones from MASSEDUCTION were arguably the most electrifying, with 'New York' lending itself to a stirring singalong. The theatrics were there – nothing beats the guitar duels between Clark and Jason Falkner – but whenever she'd pound her hand on her chest, it served as a reminder of where this music, naturally more joyous live than on record, really comes from.
Welcome to Caroline Polachek's Island
It's remarkable, but not really a surprise, just how quickly the crowd erupted at the Caroline Polachek show. As the howl in 'Welcome to My Island' ushered us into the heady, ecstatic world of her new album Desire, I Want To Turn Into You, everyone out there with a less agile voice – so basically everyone except Polachek – had the chance to immediately engage by chanting "Hey, hey, hey, hey." From there, even the deep cuts from the record received a response so rapturous it reminded me of Lorde's set at the same festival last year – the only time I've really thought about the common ground between the two artists. At no point did Polachek's expansive, exquisite delivery come at the cost of emotion, but that element of her music – call it melodrama – seeped further in as the show went on, particularly as she introduced the "heartbreak potion of this thing" with 'Butterfly Net'. 'So Hot You're Hurting My Feelings' is the obvious crowd-pleaser to end this and any one of Polachek's shows, but at Barcelona's Primavera Sound – which she called her favorite festival – it's the flamenco-indebted 'Sunset' that was the undisputed highlight. In the context of the album, Polachek singing "Let's ride away" sounds like part of a fantastical escape, but here it felt more like an invitation to discover the hidden pleasures of the place we'd all collectively found ourselves in.
Rosalía's Homecoming Show Is a Crowning Achievement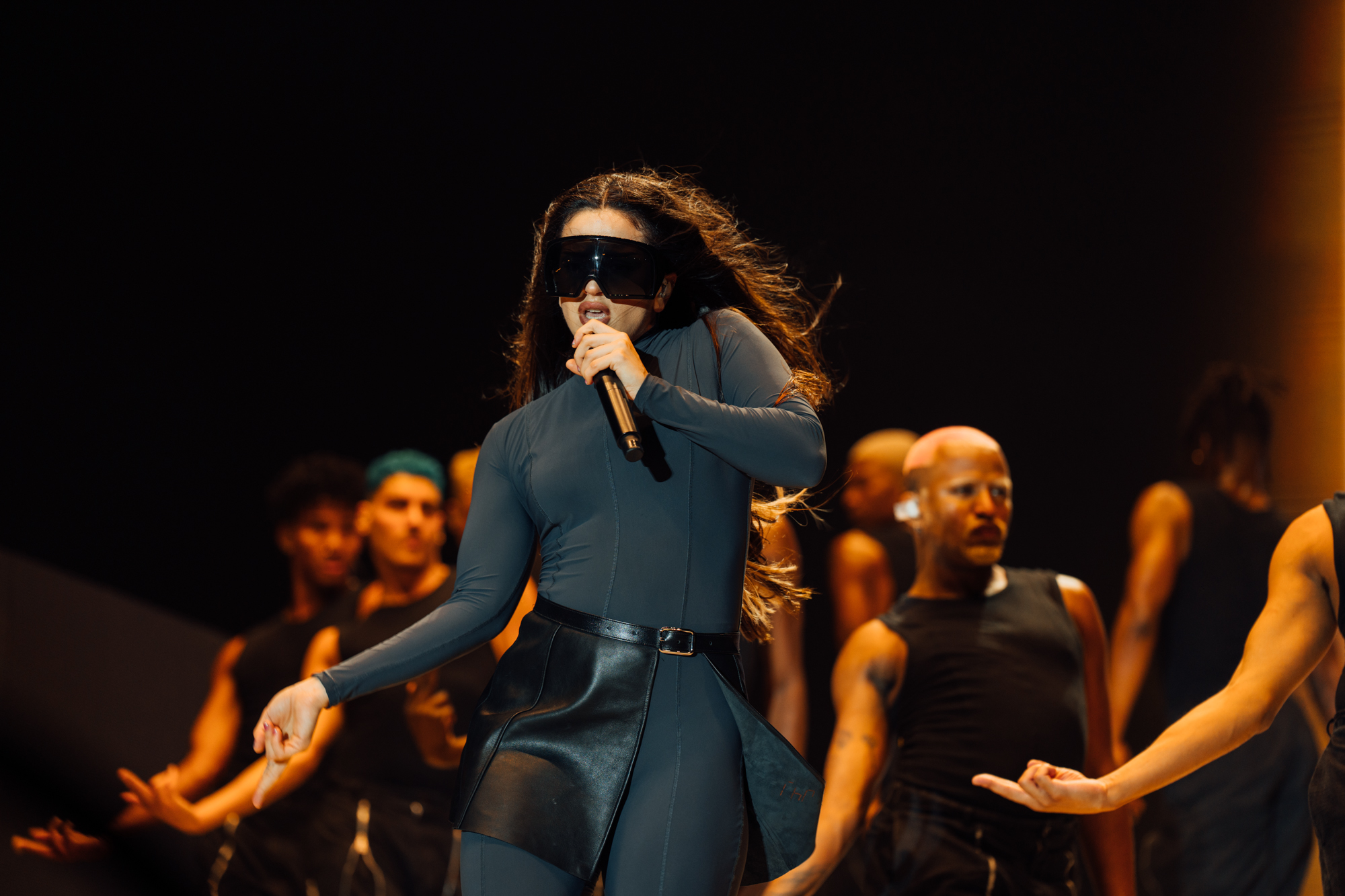 When Rosalía last played Primavera in 2019, she was part of a group of innovative, critically acclaimed artists who mostly operated just to the left of the mainstream. Fast forward to 2023, and Rosalía is a worldwide phenomenon – not a single performer would be better suited to close out this year's festival. Yet her spectacular headlining set felt less like a celebration of her ascent to stardom than the fact that she was back in the city of Barcelona, playing before a crowd that largely did speak Spanish instead of someplace where she'd transcended the language barrier. Whether or not you understood a word she said, you could tell being there meant the world, and it was a joy to watch the audience echo the sentiment.
Rosalía's kaleidoscopic vision doesn't break the boundaries between avant-garde and mass-appeal pop, innovation and tradition, so much as it renders them permeable – and why should she be forced to make a choice when it all draws the same fervent response? But her live show also proved this mindset extends beyond the music itself. Her performance was at once intimate (close-up shots beamed on the big screens almost the entire time) and loud; the minimal stage design elevated some magnificent choreography; both playfulness and vulnerability were enchantingly heightened in her interactions with the audience, particularly during the heartbreaking, sensual 'Hentai'. Some might have been disappointed that fiancé Rauw Alejandro did not make an appearance, as he did at this year's Coachella, to perform their songs 'Beso' and 'Vampiros', but Rosalía could go out there with nothing but her voice and the show would be deemed a success. More than that, though, this was a homecoming like no other.