This Is Lorelei – the project led by Nate Amos of Water From Your Eyes and My Idea – has announced a new EP titled EP #33. It lands this Friday, August 25. Lead single 'The Laughter Remains' is out today, and you can hear it below.
The four-track collection is "is two pairs of songs from 2021 and 2022," according to Amos. "Tracks 1 and 2 are from a time when I was newly sober and unsure if I would be able to write anymore, while 3 and 4 are from the tail end of an intensely productive creative period nearly a year later. More than 60 songs were written in between tracks 2 and 3. It's a document that bookends my personal process of realizing that I could successfully write in the absence of substance abuse."
"In 'The Laughter Remains' an unnamed narrator observes an angel singing to a dying bird on a beach," Amos explained. "Inspired by the waltzes of Shane MacGowan and the poetry of Emily Dickinson, I wrote it as a song of comfort for myself at a time when I was undergoing intense therapy and felt in the midst of a painful but ultimately worthwhile personal transformation. Music is and always has been an outlet for me, but in this particular case it really gave me a boost when I felt unboostable. Listening to the song now I realize that I was more equipped to navigate emotionally tumultuous terrain than I gave myself credit for at the time. It's a song about a future that is always there, in one form or another, and will always be worth looking forward to."
Check out our Artist Spotlight interview with Water From Your Eyes.
EP #33 Cover Artwork: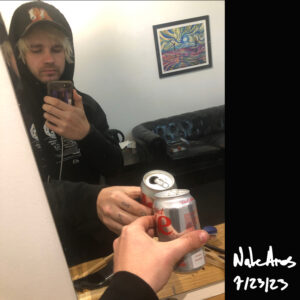 EP #33 Tracklist:
1. Dollars in the Dark
2. Hollered That Cry On The Pasture
3. Lullabies and Glue or My Brother
4. The Laughter Remains