The father-daughter duo of Ethan and Maya Hawke have shared a cover of Willie Nelson's 'We Don't Run'. It will appear on a new compilation celebrating the archival label Light in the Attic, Light in the Attic & Friends, to be released exclusively for Record Store Day's Black Friday event on November 24. The track features Christian Lee Hutson on a number of instruments, including electric guitar and Wurlitzer. Listen to it and find the full tracklist below.
"This song is off Willie's brilliant album Spirit, which has been a mainstay in our home since it was released in 1996," Ethan Hawke said in a statement. "Everybody needs a good anthem song. This is one of the best."
"We believe that an essential component of archival work, aside from simply honoring the music, is to seek ways in which to bring fresh perspectives, context, and reverence to the original artists and their work," Light in the Attic founder Matt Sullivan commented.
Light in the Attic & Friends Cover Artwork: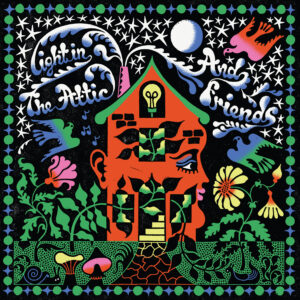 Light in the Attic & Friends Tracklist:
1. Charles Bradley & The Menahan Street Band – Slip Away (Rodriguez)
2. Sweet Tea – After Laughter (Comes Tears) (Wendy Rene)
3. Vashti Bunyan & Devendra Banhart – How Could You Let Me Go (Madelynn Von Ritz aka Lynn Castle)
4. Barbara Lynn – We'll Understand (The Supreme Jubilees)
5. BADBADNOTGOOD feat. Jonah Yano – Key To Love Is Understanding (Majestics)
6. Iggy Pop & Zig Zags – If I'm In Luck I Might Get Picked Up (Betty Davis)
7. Mozart Estate – Low Life (Public Image Limited)
8. Leslie Winer & Maxwell Sterling – Once I Was (Tim Buckley)
9. Ethan & Maya Hawke – We Don't Run (Willie Nelson)
10. Gold Leaves – Won't You Tell Your Dreams (Lee Hazlewood)
11. Swamp Dogg, John C. Reilly, Jenny Lewis & Tim Heidecker – The Kneeling Drunkard's Plea (The Louvin Brothers)
12. Silas Short – You've Become A Habit (Leo Nocentelli)
13. Mac DeMarco – Honey Moon (Haruomi Hosono)
14. Cameron Bethany – Send It On (D'Angelo)
15. Roedelius – Le Chant des Fauves (Tinariwen)
16. Mark Lanegan – Same Old Man (Karen Dalton)
17. Angel Olsen – Something On Your Mind (Karen Dalton)
18. Mary Lattimore – Blink (Hiroshi Yoshimura)
19. Acetone – Plain As Your Eyes Can See (Jim Sullivan)
20. Steve Gunn & Bridget St. John – Rabbit Hills (Michael Chapman)