New York-based singer-songwriter Katy Kirby has announced her second album and first for ANTI- Records, Blue Raspberry. It's out January 26, 2024, and it includes the previously shared single 'Cubic Zirconia', as well as a new song called 'Table'. The track arrives with a music video directed by Lane Rodges. Check it out and find Blue Raspberry's details below.
According to Kirby, 'Table' is "a thematic outlier on this record, and more of a lighthearted leftover from my god-haunted past life – it's the last on the album and sort of serves as an epilogue or outro for the rest of the songs. Most importantly it's quite fun to sing."
Blue Raspberry is the follow-up to Kirby's debut Cool Dry Place. "This record is much more personal than I intended it to be. I was in a period of experimenting with how I write, and what came out was a song about a woman, about an imagined her – I didn't think I was writing as or about myself, but these kinds of songs kept coming out, with fragments of overlapping lyrics linking them together like beads on a string. They seemed to inhabit the same world."
"I felt like I was intending to write love songs for the first time. Once I realized they were queer love songs and celebrating artificiality, I wanted them to sound like they were bidding for a spot in the wedding reception canon," she added. "It was more fun to just go for it than to try to restrain ourselves. Especially if we were just accepting the fact that we were trying to make objectively beautiful music, whatever that means."
Revisit our Artist Spotlight interview with Kary Kirby.
Blue Raspberry Cover Artwork: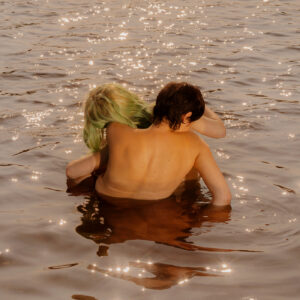 Blue Raspberry Tracklist:
1. Redemption Arc
2. Fences
3. Cubic Zirconia
4. Hand to Hand
5. Wait Listen
6. Drop Dead
7. Party of the Century
8. Alexandria
9. Salt Crystal
10. Blue Raspberry
11. Table