Coachella is an art and music festival, which varies from Indie to rock. This festival occurs in California every year. Some looks of celebrities even become a trend to the high street fashion, a big example was the floral headband. The two most inspirational celebrities that go to Coachella and start a trend would be Vanessa Hudgens and Kendall Jenner. Coachella starts from 14th to 16th and 21st to 23rd of April I wanted to cover what will be the 3 biggest fashion trends that could potentially make a rise to sales and even start a  new trend.
Body JewelleryI think this year there will be more accessorising than ever. It has a very festive look to it and it will just add more details to the look if you were to wear something simple.
 Referrence: 
http://glamradar.com/street-style-ways-to-wear-silver/
https://www.lookbookstore.co/products/silver-boho-layered-belly-chain?utm_source=Jan&utm_medium=Pinterest&utm_campaign=Gb-Kf-Br/JE-402_15
http://www.shopstyle.com/action/loadRetailerProductPage?id=479457567&pid=uid1809-26928447-95
Vintage band t-shirts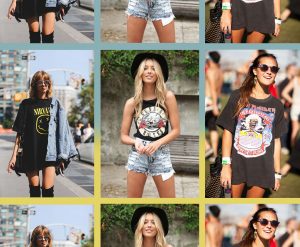 It is very common to see band t-shirts at music festivals, so no doubt that you would expect to see this look.
Referrence:
http://www.refinery29.uk/street-style-trends-big-shoulders-disheveled-outfits?utm_r29_redirect=us&crlt.pid=camp.2LQmn3ARqunp
http://eslamoda.com/outfits-chic-para-verte-hermosa-con-shorts-chiquitos
http://www.refinery29.com/30410#slide-36
Body Suits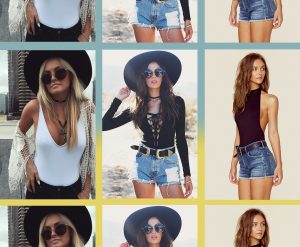 Last but not the least, body suits. They have been in trend but I know that sales will definitely boost after pictures of celebrities wearing them which they will then continue to be an on going trend.
Reference:
https://www.amusesociety.com/shop/whats-new/nickel-kimono/
https://www.shopplanetblue.com/product/blue-life-dancing-days-body-suit-black?utm_medium=shopping&utm_campaign=120385Body%20by%20Blue%20Life&utm_source=google_PLA&utm_content=351774665_25616011025_t&gclid=CIq1z_Of0tACFYM2gQodBPgEXQ
https://www.hauteandrebellious.com/products/nayah-lace-up-bodysuit-black