Fabio Consoli is a creative freelance illustrator.
You can check out our previous feature on some of his works here. This is our interview with the creative Fabio Consoli.
Are you working on anything new and exciting?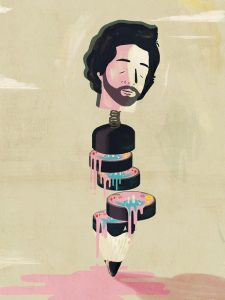 At the moment I am living in New York and I am composing a soundtrack for a commercial movie about a building in the centre of Manhattan. As a secondary job, I am a musician, I compose instrumental music for documentaries, commercials and whatever fits with my style. You can listen to my music sketchbook on SoundCloud
At the same time, I am working on a cover for a Japanese magazine, a gig poster for a New York music production label, a book cover for an Italian publisher.
Why and how did you become interested illustration?
I love images, I love paintings and arts in every form.
Since I was 4 I have been loving painting and drawing, at 20 I was still loving painting and drawing. At school, I studied lives of great masters of painting and I had the feeling that most of them died poor and crazy, then, to get a living, I started a job as graphic designer, working on my illustration as a side job. Today, after 20 years, illustration become a real job and music and graphic design a side job.
 How do you feel about working in sketchbooks?
Sketchbooks are really important for me, I use them to develop my style, for preliminary studies about subjects that I have to use on my illustration, to discover the world around me.
I teach Visual Journaling at Abadir the Academy of Art in Italy and in an online school based both in Amsterdam and New York called Sketchbook Skool, so I can say that sketchbooks are a real part of my job.
In the last years, I create the Music Visual Journal, which is a projection of my travel sketchbooks accompanied by my Musical sketches played live from me.
What's it like being an artist in the age of social media?
Social media give an instant feedback about your sketches, your ideas, your finished works.
I think they are big tools for who works on creative fields, but I wouldn't rely completely on the social feedback, otherwise, I'd be constricted to think that cats photos with thousands of likes are great masterpieces 🙂
Nonetheless, I get most of my contacts from social media, which give me the opportunity to get exposure to art directors and agencies,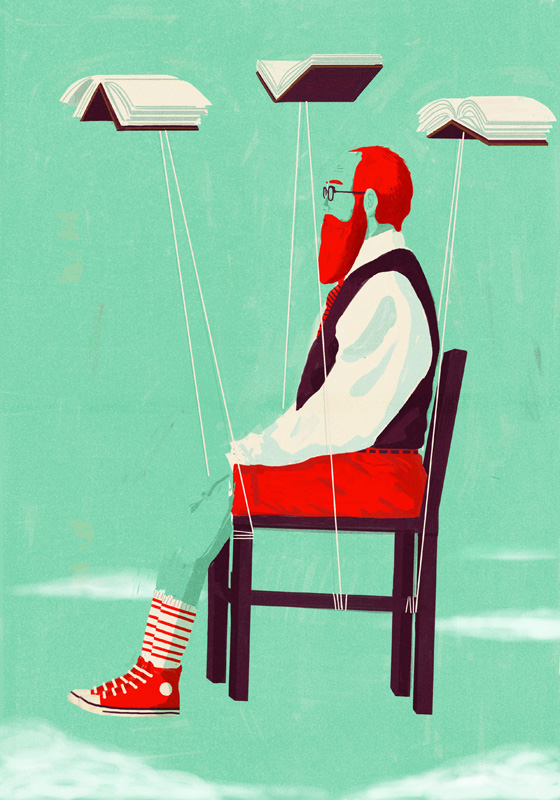 What's your source of inspiration?
I find inspiration from different places.
Every day I get a look to Behance and Instagram to see what's happening out there.
I see great masters in painting and contemporary art documentaries.
Movies are full of inspiration, it often happens that as I watch a movie on my computer I do a screenshot to freeze a frame.
Movies give me inspiration about concepts, composition, colour palette, characters. Music Videos are full of creativity too.
 Do you have a personal process for developing ideas?
In most of the case to develop ideas I use the Lateral Thinking method of Edward De Bono, you will find a lot of material on the web.
But one random process I have when I feel not in the mood of being so methodic is this:
Basically, I start writing keywords taken from the briefing, I create a text file and then I close it and work on another project.
I think the subconscious starts working without me being aware of it. Then I start doing sketches, then research. (I know it, should be the reverse.) Then close the file and work on something else. And go on until I find some ideas that could work. This could last only a couple of hours or days, depending on the timing I have for the assignment.
Do you have any creative routines?
For me, creativity means no routine.
If I do every day the same things, my ideas will be always the same too. Obviously, it works for me.
Sometimes I work from my home studio, sometimes from my studio in the city centre, I found ideas in the dentist waiting room sketching on the back of a receipt.
I would say that from 7.00am to 2.00pm coffee is a great ideas buster. From 6.00pm to late night beer has almost the same effect as coffee.
What role does the artist have in a society?
I don't like thinking about me as an artist.
I solve problems for money, that's the raw reality.
In this age, I can't see the edge between artist and designer, or artisan, or carpenters. Contemporary art moves in very different way.
I think there are millions of way to do art so I think I there is not a unique role, or at least I have it not clear. But I will think about it.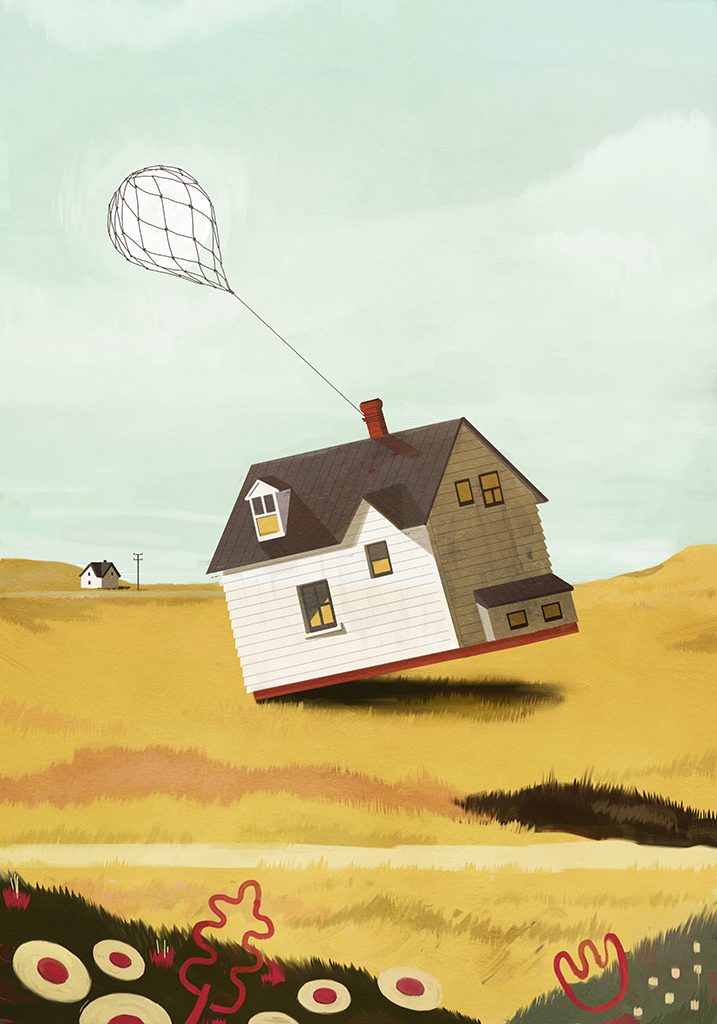 What do you hope to accomplish with your art?
All my illustrations have a message.
First of all, I hope that they gave the message to the audience.
Then I would like to know that people would hang them on their houses, that's the aesthetical part of my job.
strong message + nice image = perfect Job!
Any advice for aspiring artists?
I am not good to give general advice but I can talk about my experience.
I really wanted to become an illustrator, I have been working hard on this project, focusing a lot of energies, working with method and constancy.
But there are a lot of talented people out there and it is a very competitive world.
Today I work as an illustrator, but what about the next 5 years? Or the next year? Will people still call me?
This for me means that every day I have to work to become an illustrator.
Check out Fabio's work on his social media:
Behance: https://www.behance.net/fabioconsoli