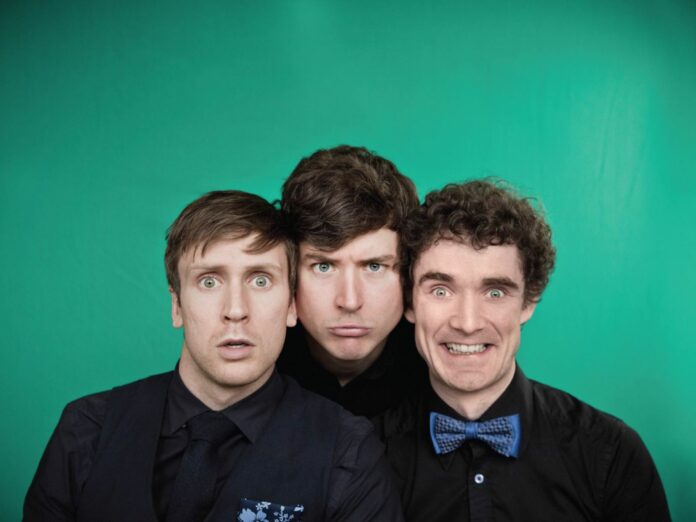 Sean, Conor, and Sean — or, should I say, Foil, Arms, and Hog — have taken their deliciously witty Irish antics on a world tour. I had the good fortune to attend "Swines" in Los Angeles, the sketch group's first night performing in the United States.
It was a literal laugh riot. Foil Arms and Hog are raising a comedic army in America.
Everything we'd hoped…
Prior to my gut-busting experience at the Dynasty Typewriter at the Hayworth, the lads met at University and began putting on live performances. Then the Youtube channel, an 'experiment' in camera funny, took off and took hold of 338,000 subscribers and approximately 61 million views. The lads do all sorts of things – songs about clickbait, fussy mother imitations, teasing about Brexit – and I've been a fan for years. Therefore, I took a Los Angelean's first chance to see them live. Fans of Foil Arms and Hog, the show was everything we'd hoped – and more.
Even in California, the boys from Ireland shine bright. Brighter than the sun, the haze, and the Hollywood Walk of Fame brought together. To begin their show at the Dynasty Typewriter (their second performance that evening due to a high demand for tickets), Foil Arms and Hogs welcome fans and sceptics alike with an audience participation activity. There is much hesitation early on, outright refusal even! But the boys don't let it stop them. They ride the turning tides like the captains of improvisation they, undoubtedly, are.
…and more.
Captain is the perfect honorific title for these friends turned comedic writing team. It becomes apparent as the show continues that the three could easily lead a fleet, a frigate, or a full-on revolution. The audience eats out of their hands, making them laugh between gobbles. The people follow every cue, play along with every game, and laugh hysterically for just about the entire showtime.
Sean Finegan (Foil) plays the roles of straight man, physical comic, and improviser with equal measures of keen calculation and graceful lunacy. Conor McKenna (Arms) has the facial and vocal flexibility to play a character that makes you squeal with laughter. Sean Flanagan (Hog) has a fantastic presence and the remarkable ability to carry the show off-script and still keep the funny going. And, of course, all three are brave, insightful, and wickedly clever actor/writers.
Cultural and geographic differences? Forget them! Foil Arms and Hog will bring in people from everywhere, to chortle, belly laugh, and ultimately applaud together. The standing ovation at the Dynasty Typewriter was instantaneous – and was led by what was formerly the most resistant and crotchety audience member. He went from glued to his seat back to riotous applause. That's the power of three talented performers.
To purchase tickets to Foil Arms and Hog's remaining tour dates, click here. Subscribe to Foil Arms and Hog's Youtube channel here.