Weezer have announced their next album. It's called OK Human and it's due out on January 29 via Atlantic. A single titled 'All My Favorite Songs' is set to arrive this Thursday (January 21); the band has also shared a playlist called 'All My Favorite Songs' featuring songs by Neil Young, REO Speedwagon, Johnny Cash, Toni Braxton, Yeah Yeah Yeahs, Céline Dion, and Sinéad O'Connor. Check out the album's cover artwork and tracklist below.
In addition to OK Human, Weezer have also confirmed that Van Weezer, the album's hard rock counterpart, is still slated to come out on May 7. "Van Weezer is in mortal combat with OK Human, a record that's mostly done," Rivers Cuomo told Entertainment Weekly back in 2019. "That one's totally different. It's inspired by an album from 1970 called Nilsson Sings Newman. It's all piano-based, but it has a ton of orchestration. We just did the strings at Abbey Road. It's just gorgeous melodies and extremely eccentric lyrics."
Van Weezer has spawned three singles so far: 'The End Of The Game', 'Hero', and 'Beginning Of The End'.
OK Human Cover Artwork: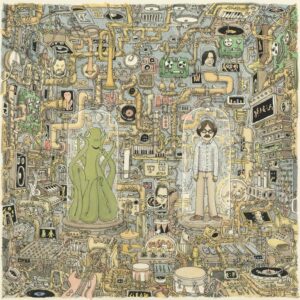 OK Human Tracklist:
2. Aloo Gobi
3. Grapes Of Wrath
4. Numbers
5. Playing My Piano
6. Mirror Image
7. Screens
8. Bird With A Broken Wing
9. Dead Roses
10. Everything Happens For A Reason
11. Here Comes The Rain
12. La Brea Tar Pits