In this new segment, film critic Elias Michael takes us through his weekly film picks. He'll offer up his selection, where you can watch them, and why you might want to take a look.
It's been an interesting few weeks for film. We've seen the hype, discourse, and aftermath of the Academy Awards; Knives Out 2 has started announcing its cast; and films new and old come and go from our favourite streaming giants. Join me as I talk about some of my recent viewings, and why you might want to check them out as well.
Nomadland – Disney+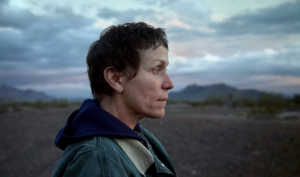 Starting off this month with the Best Picture winner, Nomadland follows Fern (Frances McDormand) travelling around the United States after the death of her husband and the closure of the sole industry that kept her hometown afloat. While working various jobs, Fern meets other 'nomads', a community of people who live out of their vans and never settle in one area. Ultimately, Nomadland is about humanity, the people you surround yourself with, and the kindness they can offer. The film conveys the struggles of post-recession America but never gets bogged down in overt politics; though it does pick apart the understated and sometimes awkward ideas of prescribed modes of living. Side note: every film needs to have a Ludovico Einaudi score. 4/5
Saving Private Ryan – Sky Movies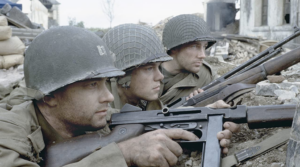 Saving Private Ryan is Spielberg at his peak. Upon hearing the news that three of the four sons of the Ryan family were killed in action, General George C. Marshall orders the safe return of the sole living brother – James Francis Ryan. Three days after a horrific battle on Omaha Beach, John H. Miller (Tom Hanks) leads several members of his company to go out and find Ryan and bring him home. Along the way, they struggle with the fight against the enemy and amongst themselves, questioning if risking their lives is worth it for just one man. Saving Private Ryan is truly one of the greats. The famously overwhelming opening immediately slams the viewer with the horrors of war. The film's technical prowess is staggering, not least because many WW2 veterans have attested that the film is the most realistic depiction of combat they have seen. The rest of the film follows the individuals who endure the combat, exploring their backgrounds and reactions to the bloodshed that unfolds around them. This powerful experience is truly a must-see, so please add it to the top of your watchlist and make sure you have a strong stomach. 4.5/5
The Mitchells vs. The Machines – Netflix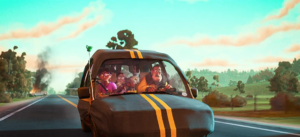 If you're looking for a fun, energetic, and hilarious family movie, look no further than The Mitchells vs. The Machines. The incredibly talented Lord and Miller (The Lego Movie, the Jump Street films, and Into the Spider-Verse), alongside director Mike Rianda and writer Jeff Rowe, have brought the world a charming and imaginative story of a dysfunctional family who are the last hope to save humanity from a robot uprising. We follow the daughter, Katie (Abbi Jacobson), an aspiring filmmaker who has just been accepted into film school. Although she is excited to finally mix with people who 'get her', her father (Danny McBride) wants to fix their strained relationship by taking the family on a cross-country road trip as a last bonding experience. However, on their journey, they have to learn to work as a team to take down an AI system led by PAL (Olivia Coleman), who is planning to send all humans into space. Helped by a fantastic supporting cast, this animated roller coaster captures a heart-felt father-daughter story with dazzling, fast-moving animation and palpable energy. 4/5
October Sky – Amazon Prime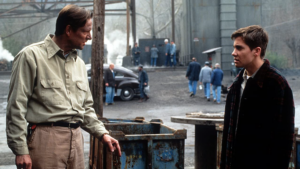 October Sky is a delightful coming-of-age film that follows Homer Hickam (Jake Gyllenhaal), a young teenager who, upon seeing the launch of 'Sputnik 1' in 1957, begins to have big dreams of space and rockets. Troubled by constant pressure from his father (Chris Cooper) to work in the mines instead, Homer fights through the norms set by his surrounding; he teams up with the math 'geek' Quentin (Chris Owen) and his friends (William Lee Scott & Chad Lundberg) as they begin to construct small rockets with support from their teacher (Laura Dern). Set at the start of the Space Race, October Sky separates itself from the scaremongering that Americans felt when the satellite was launched and differs from Cold War espionage films. Rather, it focuses on the beauty and fascination of space travel and the curiosity that humans naturally have – all through the innocent eyes of our main character. October Sky is a very pleasant watch. 4/5
Join me again soon for another Weekly Watch.