One of the biggest events in the annual calendar for genre fans, Fantasia International Film Festival comes to an end today after three weeks of screenings and events staged in venues across Montreal. We've been covering just some of this year's batch of new horror, science fiction and cult films – including The Harbinger, Shin Ultraman and Cult Hero – since the festival opened its doors on 14 July.
With Fantasia coming to a close for another year, read on for a round-up of five further films that you can catch up with at festivals or on streaming in the coming months.
Deadstream (2022) *****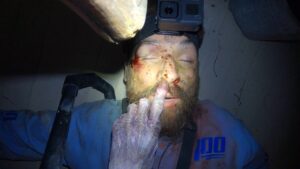 Being a fan of found footage horror often feels like the only bit from The Godfather Part III (1990) that anyone ever remembers (apart from the helicopter): just when you think you're out, they pull you back in. Horror-comedy Deadstream, written and directed by husband-and-wife team Joseph and Vanessa Winter, is the latest film that will renew your faith in the format. Joseph Winter himself stars as Shawn, a disgraced and demonetised YouTuber who attempts to relaunch his career by staging a livestream in an infamously haunted house. It's the rare horror-comedy that gets the tonal balance exactly right, managing to be both genuinely frightening and laugh-out-loud funny (often all at the same time), and has some important things to say about fame-hungry internet celebrities who will do or say anything for views, affirmation and cold hard cash. Most importantly, though, it's just an extremely good time; playing like a mash up of The Evil Dead (1981), The Blair Witch Project (1999) and Host (2020), it's a perfect midnight movie and by far the best 'livestream' horror film yet.
Deadstream screens at FrightFest on Saturday 27 August
Glorious (2022) ****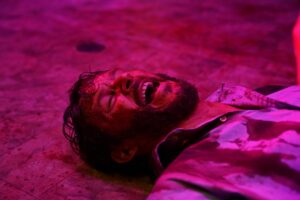 When we meet Wes (Ryan Kwanten), the protagonist of Rebekah McKendry's horror-comedy Glorious, he is having a bad day. Grieving for a relationship, he pulls into a roadside rest stop in an emotional state, drinks himself into a stupor and passes out in a grassy picnic area. But the day after is even worse: having woken up hideously hungover, he stumbles into the rest stop's squalid bathroom and is met by the disembodied voice of none other than J. K. Simmons, who begins speaking to him from the next stall. The second character in this weird chamber piece soon reveals himself to be an all-powerful being called Ghat, who needs Wes to make a sacrifice to save the universe. What follows is a twisting tale of ancient world-eating gods, but one that is decidedly different from the vast majority of Lovecraftian films. While it is told through the established tropes of cosmic horror, at heart this is an intimate story about one man's reckoning with himself. And if that (in addition to the fact that it is set almost entirely within a public toilet) is not enough to intrigue any discerning genre fan, it also happens to be utterly hilarious.
Glorious will be released on Shudder on 18 August
Hypochondriac (2022) ****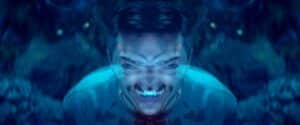 Any fan of contemporary genre cinema will know that there are now a lot of independent horror films about personal trauma, many of them unrelentingly bleak. Luckily, Addison Heimann's Hypochondriac stands out from the crowd. The film's protagonist, Will (Zach Villa), has never dealt with childhood trauma stemming from the day his schizophrenic mother tried to kill him. Now he's starting to experience some strange symptoms himself, but his doctors keep telling him that they can find nothing wrong. It's a genuinely frightening depiction of mental illness (one 'based on a real breakdown') that establishes an interesting intertextual relationship with another movie that explores similar themes; Will's psychotic episodes openly borrow shots and transitions from Donnie Darko (2001) and feature a humanoid figure in a wolf suit obviously designed to recall Frank, the earlier film's nightmarish rabbit. What is refreshing in the age of Ari Aster, though, is that there is light to be found in Hypochondriac's darkness – a sense of hope that is so often missing from films concerned with grief, trauma and the horrors of the mind.
Hypochondriac will screen at FrightFest on Saturday 27 August
Speak No Evil (2022) ***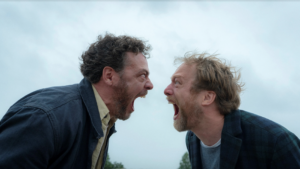 Critics and audiences have been raving about Christian Tafdrup's Speak No Evil since it premiered at Sundance earlier this year, and it's certainly a film worth seeking out (if not one for the faint of heart). This twisty horror-thriller follows Bjørn (Morten Burian) and Louise (Sidsel Siem Koch), a polite Danish couple who meet Dutch husband and wife Patrick (Fedja van Huêt) and Karin (Karina Smulders) while on holiday in Tuscany. When they return home, they receive a postcard inviting them to spend some quality time in the Netherlands with their new acquaintances. However, their pleasant weekend break quickly turns into a horror show of discomfort and anxiety as Patrick and Karin begin to display inappropriate and downright threatening behaviour. What begins as an amusing comedy of manners gradually becomes a taut, unpredictable thriller before finally transitioning into a nihilistic, deeply unpleasant and extraordinarily mean-spirited horror film – one that is admirable in its determination to pull no punches, but leaves something of a bad taste in the mouth.
Speak No Evil will be released on Shudder on 15 September
Swallowed (2022) ***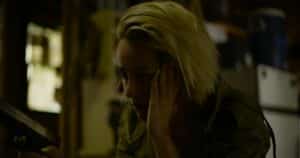 Carter Smith's Swallowed follows Ben (Cooper Koch), who is saying his goodbyes before leaving a sleepy town between Maine and Canada to become a gay porn star. Before he can set out for Hollywood, though, his friend Dom (Jose Colon) wants to help him make some cash. Dom's plan is to run drugs over the border, but these are no ordinary narcotics – and soon both Dom and Ben have ingested something that might just be alive. Swallowed has been sold as a queer take on body-horror, but is actually a little light on the kind of gross-out sequences associated with the sub-genre. It certainly has its wince-worthy moments, though, and its few practical effects (designed by the ever-reliable Dan Martin) are excellent. The film is also somewhat thematically confused in its approach to sex work; given some of its narrative events, it's difficult to tell whether or not it endorses Ben's decision to pursue a career in the adult entertainment industry. Either way, there's plenty to enjoy here. It's particularly strong in its tense opening act, as Ben and Dom spiral deeper and deeper into a bad situation that keeps getting worse.
Swallowed will screen at FrightFest on Sunday 28 August