Mega Bog, the experimental pop project led by Erin Elizabeth Birgy, has announced a new full-length. End of Everything, Birgy's seventh album and first for Mexican Summer, is out May 19. To accompany the announcement, she's shared a self-directed video for the lead single 'The Clown' and announced a UK tour in support of the LP. Check out 'The Clown' along with the album art, tracklist, and Mega Bog's upcoming tour dates below.
Talking about the new song, Birgy said in a statement: "'The Clown' is about the terrible, sensual, and chaotic release of merging one's own multitudes, showing love to the darkness and insecurities, having curiosity about what is beyond presumed perceptions – surrendering to the uncontrollables, while nourishing the small statues of what we do have control over within ourselves."
The follow-up to 2021's Life, And Another was recorded and co-produced with Big Thief's James Krivchenia, who also mixed and co-engineered the record with Phil Hartunian. Collaborators on the LP include Aaron Otheim, Zach Burba, Will Segerstrom, Hand Habits' Meg Duffy, and Jackson Macintosh (Drugdealer, TOPS), and Westerman. The cover artwork is a painting by Birgy's oldest friend, Joel Gregory.
End of Everything Cover Artwork: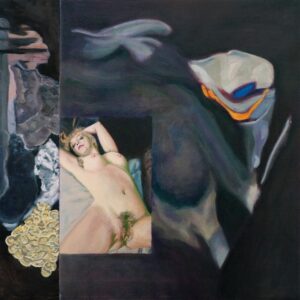 End of Everything Tracklist:
1. Cactus People
2. The Clown
3. Love Is
4. Don't Doom Me Now
5. All and Everything
6. Anthropocene
7. Complete Book of Roses
8. End of Everything
Mega Bog 2023 Tour Dates:
Aug 13 – Glasgow – The Hug & Pint
Aug 14 – Manchester – YES (basement)
Aug 15 – Brighton – The Prince Albert
Aug 16- London – The Lexington
Aug 17-20 Aug – Brecon Beacons – Green Man Festival