Molly Burch has announced a new album, Daydreamer. The follow-up to 2021's Romantic Images is due out on September 29 via Captured Tracks. Today's announcement comes with the release of the lead single 'Physical', which is the first song Burch worked on with producer Jack Tatum (Wild Nothing), having previously co-written 2020's 'Emotion' together. Check it out and see the album cover and tracklist below.
Daydreamer started coming together after Burch, having recently relocated to her hometown of Los Angeles, found her old diaries from age 13 and younger. "Growing up I was extremely shy and filled with self hatred," she shared in a press release. "I would hide out in my bedroom to watch TV and daydream. I was so uncomfortable in my body and that was the age I started dealing with body dysmorphia, which later formed into an eating disorder. It was also the age I started realising I could sing, and how badly I wanted to pursue that, but told myself I couldn't." Burch added:
I see myself as a daydreamer. Someone who uses their imagination to escape reality when sadness and longing begins. When I think of my most prominent daydreaming years, I see an insecure and introverted thirteen year old hiding out in her bedroom. I had a voice inside of my head spinning a web of negative self talk. But I equally gave space to my very big dreams which ultimately guided my career as a musician. During the pandemic, I started to lose sight of what aspects of my life brought me joy and what felt like going through the motions. I felt I was at the peak of letting external opinions fully dictate my self worth. So I examined my insecurities, the mean stories I would create about myself, and the body issues that had plagued me for too long. I decided, through songwriting, to look back at formative life moments, to connect with the reasons why I've dedicated my life to music and also try to heal old and still open wounds. This album is dedicated not only to my thirteen year-old self, but the thirteen year-old selves that still linger within all of us. It's filled with bops and ballads & I'm so excited to share it with you.
Daydreamer Cover Artwork: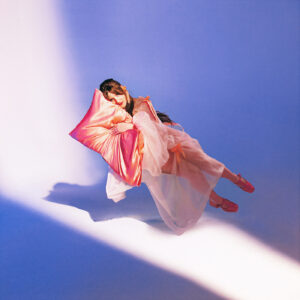 Daydreamer Tracklist:
1. Made Of Glass
2. Physical
3. Baby Watch My Tears Dry
4. 2003
5. Tattoo
6. Unconditional
7. Heartburn
8. Champion
9. Beauty
10. Bed